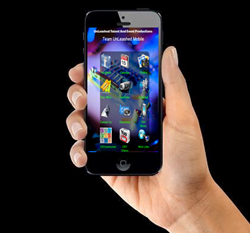 Another great example of how businesses are using mobile apps to connect with their customers
New York, NY (PRWEB) September 20, 2013
Infinite Monkeys, has announced today that Unleashed Talent And Event Productions is the company's "App Of The Week" for September 16th - 22nd.
Each week Infinite Monkeys selects one app from the thousands published with their free app maker platform. This app was chosen because it is a great example of the quality, beauty and usefulness that mobile apps can bring to a traditional business.
With more than 1 Billion smartphones now active in the world, and 84% of those users accessing the Internet via their smartphone everyday, the base of potential mobile customers for Unleashed Talent And Event Productions is massive and growing by the day. It was this potential that motivated Infinite Monkeys to create a free drag-and-drop app builder platform that allows anyone to create an app like UnLeashed Talent And Event Productions without having to hire a mobile agency for thousands of dollars, or learn how to do coding.
Unleashed Talent And Event Productions and thousands of other businesses, blogs, sports teams and community groups selected the Infinite Monkeys app maker platform to create and launch their mobile app for Android, iPhone and over 5,000 different models of HTML5 compatible smartphones.
In a recent interview about building the Unleashed Talent And Event Productions app, Eric Hall told Infinite Monkeys the following about their experience entering the app economy:
IM: Why did you decide to go mobile?
Eric: We decided to go mobile to create a unique way to stay up to date with our event company and any services we may offer including a calendar for live local music in central New York.
IM: How did you find Infinite Monkeys?
Eric: We found Infinite Monkeys while web browsing. We originally liked the company's name, and then found the services to be great!
IM: What are the biggest issues for running your company?
Eric: The biggest issues for our company would be like many of our competitors, which is advertising and finding the right markets to advertise in. Our goal is to modernize the central New York music scene!
To create your own mobile app, and have a chance at being named App Of The Week, go to http://www.InfiniteMonkeys.mobi and get started today.
About Infinite Monkeys
Infinite Monkeys is a self-serve drag-and-drop platform that enables anyone to create a mobile app for iPhone, Android & HTML5 smartphones - without any coding. With three pricing options, from free to just $99, Infinite Monkeys brings custom mobile apps within the reach of small businesses, schools and community groups. By servicing the long-tail of niche interests with free and low-cost apps, Infinite Monkeys was named one of the Top10 Internet Startups of 2013 and aims to be the largest DIY publisher of mobile apps in the world.
To learn more about how Infinite Monkeys is transforming the Mobile App Economy, please visit http://www.infinitemonkeys.mobi and follow @oo_monkeys on Twitter.
About Unleashed Talent And Event Productions
Unleashed Talent And Event Productions specialize in professional public/private event, concert, party planning. Along with this, they also work with musicians, models, promotions, models, bartenders and all other types of talent on their behalf for booking, advertising, and event management.
To download the Unleashed Talent And Event Productions app for your mobile phone, go to: http://fanapp.mobi/unleashed_talent_and_event_productions
To learn more about Unleashed Talent And Event Productions, please visit https://www.facebook.com/UnLeashedTalentAndEvents