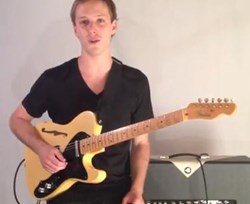 I almost play better with my eyes closed, when I'm just thinking about the music.
Los Angeles, CA (PRWEB) September 19, 2013
In the lesson, MacLennan explains that new guitarists often play by looking at their hands. He issues a challenge to new guitarists: to practice without looking at their hands, but to look instead at sheet music, and ultimately to play with their eyes closed.
While he encourages new guitarists to look at their hands while they are learning to place their fingers correctly on the guitar's neck, he stresses the importance of learning to look elsewhere while playing consistently. More experienced guitarists should get used to knowing their riffs and their own original compositions by heart, as opposed to relying on watching their hands while playing.
"Looking at my hands almost becomes a distraction," MacLennan says. His three step lesson is designed as a useful way to improve soloing and learn riffs quickly. First, he plays an example jazz riff while looking at his hands. He repeats the riff while reading the sheet music from a music stand. Lastly, he repeats the riff again with his eyes closed.
"I almost play better with my eyes closed, when I'm just thinking about the music," he notes. The guitar lesson ends with a final word of advice from MacLennan, "Don't just do it one way every time, because when you play live there will be all different situations to be prepared for. You've got to know what you're going to play - cold."
Guitar Control instructor Jon McClennan is a renowned session guitarist and professional music educator. A composer and producer, MacLennan worked as an instructor for the Los Angeles Pierce College Department of Music. With a B.A. in ethnomusicology and jazz guitar studies from University of California, he's played guitar and ukulele for the hit Fox show Raising Hope; appeared on the Disney series The Suite life of Zach and Cody; and composed, arranged, and produced three full length albums of his own.
GuitarControl.com is packed with resources, video tutorials and lessons, articles, and affordable DVDs to help new guitarists learn and experienced guitarists master their instruments. Guitarists of any experience level find guitar lessons from instructors with a broad array of music backgrounds and styles - blues, jazz, metal, classical, folk, progressive rock, punk, and everything in between. Guitarists can find relatable, easy-to- follow videos regardless of their ability or musical tastes.