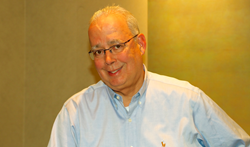 "We are confident that his experience with new venture-funded companies will ensure our continued success well into the future."
Alliance, OH (PRWEB) September 25, 2013
Today, Alliance, OH-based AMVONET named Chris Kiminas as CEO. Kiminas has served the company as Sr. Vice President of Sales and Marketing since December of 2012. For 30 years, Kiminas has held senior sales and marketing management positions with Xerox, Automatic Data Processing (ADP), Goal Systems and The Ultimate Software Group. He has a BBA with a focus on marketing from Cleveland State University.
AMVONET Chief Innovation Officer and Chairman of the Board Vadim Eelen shares, "Chris has been a wonderful addition to our leadership team. We are thrilled to have him step into the role of CEO. We are confident that his experience with new venture-funded companies will ensure our continued success well into the future."
Mr. Eelen will continue his work in the same critical role as Chief Innovation Officer and Chairman of the Board and he will continue to play a leading role in business development, product strategy and innovation.
Kiminas has extensive experience with new venture-funded companies where he served in key entrepreneurial sales and marketing start-up roles. As a co-founder and partner of BizLogx, a sales and marketing consultancy, he focused on implementing sales, marketing and technology programs to create high performing sales teams. Prior to joining AMVONET, Chris was worldwide vice president of sales and marketing at Astute Solutions, a global B2C SaaS CRM solution located in Columbus, Ohio. As CEO at AMVONET, Kiminas will focus on day to day operations, driving revenue and raising capital to support the company's growth plans.
AMVONET is a comprehensive e-learning management, collaboration and authoring software suite. AMVONET allows you to create and manage content, assessments, and certificates. The AMVONET Learning Content Management System is comprised of three distinct but complementary components. AMVONET Manage is a teaching toolkit instructors can use to manage students and their grades, as well as generate progress reports. AMVONET Connect is a real-time communication platform which acts as a virtual classroom; students can interact with teachers and peers via audio, video or text chat; collaborate live on platforms such as PowerPoint; and record these sessions for later viewing. Finally, AMVONET Publish lets users add multimedia elements to videos they recorded using AMVONET Connect, as well as add dynamic action, using a patent-pending technology called Interactive Points (iPoints).