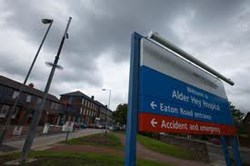 Not only is it psychologically damaging for Llinos but her spine gets worse every day.I can't believe they've let us down again.
Bolton, UK (PRWEB UK) 26 September 2013
According to the Liverpool Echo, the family of Llinos Owen have described themselves as being repeatedly let down by Alder Hey hospital, after the repeated cancellation of her surgery (1). With the prevalence of delayed treatments an on-going issue, it is crucial that safeguards are put in place, ensuring that the repeated re-scheduling of operations doesn't cause lasting damage.
Originally scheduled for the 7th August, Mrs Owen, Llinos' mother, allegedly found out the operation had been cancelled while pre-operation tests were in progress (1). They were told that the surgeon would be on annual leave, and that the operation would be cancelled. Subsequently, the procedure was re-scheduled for the 11th September. Despite the surgery previously being cancelled, the re-scheduled surgery failed to go ahead (1).
Describing the circumstances, Mrs Owen, explained her disappointment (1):
"We were supposed to go to Alder Hey on Tuesday to prepare for the operation today but the surgeon's secretary called on Monday to say the operation wouldn't go ahead. She said the operation requires two surgeons and only one was available. I couldn't believe it – it's totally unacceptable. They've had since August 7 to sort it out and they told me the day before we're due to go that they don't have the surgeons to do it.
"Not only is it psychologically damaging for Llinos but her spine gets worse every day.I can't believe they've let us down again. It takes a toll on us all, but Llinos was looking forward to the operation and is so upset."
Linos suffers from scoliosis, a medical condition which curves a person's spine from side to side (1). As reported by the Liverpool Echo, her pain resulting from her condition causes sleep and mobility issues. The long anticipated operation would put a rod in her back, straightening her spine.
Considering what is thought to be a national issue (1), Asons Executive, Laura Williams –
"I can only imagine how Llinos' family must be feeling. This surgery would be life changing, and to have it cancelled last minute, repeatedly, must be upsetting.
"At Asons Solicitors, we see medical claims, where medical conditions have been exacerbated because their treatment has been delayed. For example, postponing treatment can increase the chance of undesirable complications, such as surgical errors.
Patients making a claim for spinal injury compensation have often suffered needlessly, in such circumstances prompt and effective treatment is crucial. "
In the event that medical negligence occurs, legal advice must be sought as quickly as possible. Taking action can prevent the same situation from reoccurring, helping others to avoid injury in future.
Those who suffer from medical negligence, are able to make a claim for NHS compensation. Asons Solicitors deal with spinal injury claims on a regular basis, they can be contacted on: 0844 850 1062.
-Sources-
(1) The Liverpool Echo, Liverpool's Alder Hey angers family by cancelling teenager's spine operation - twice (11/09/2013) liverpoolecho.co.uk/news/liverpool-news/liverpools-alder-hey-angers-family-5909201
About Asons Solicitors:
Asons Solicitors is a Bolton-based law practice that specialises in personal injury and industrial disease claims. Founded by brothers Imran Akram and Kamran Akram, Asons Solicitors has developed to become a young and dynamic law firm that delivers practical solutions to clients in times of difficulty. Their continued focus on their staff has seen them awarded with the Investors in People "Gold Award"; which is reflected in the professional and personable approach they take in working with clients. They strive to grow and to develop, and their supportiveness and attention to detail ensures that their clients use them time and again.
For further information contact:
Email: info(at)asons(dot)co(dot)uk
Website: http://www.asons.co.uk