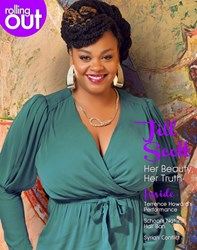 Love is bigger than just the emotion for the moment.
Atlanta, GA (PRWEB) September 19, 2013
Jill Scott has reached the pinnacle of success by selling millions of records, winning Grammy Awards and touring around the world. Since debuting in 2000 with the masterful "Who Is Jill Scott?" album, she has inspired millions through song.
Scott also delves into acting and will co-star in a romantic comedy that represents the essence of black love. "Finding someone or meeting someone who is equally yoked — that's major. Love is bigger than just the emotion for the moment. Love requires patience, communication and demands mutual respect and understanding," says Scott, who's co-starring in "Baggage Claim," alongside Paula Patton, Derek Luke and Boris Kodjoe in a film directed by David Talbert.
Success doesn't shield Scott from enduring racism. Along with examining race relations in America, Scott is also cognizant of the images that are perpetuated through media. She is infuriated by some of the negative portrayals of blacks, especially on reality TV.
"The television and the Internet are creating boxes for us and I believe we are starting to fall for it. Why wouldn't everybody else?" she asks during an interview in Los Angeles with music editor Amir Shaw.
Visit rollingout.com to read the interview in its entirety. Be sure to check out the exclusive photo shoot and video footage with celebrity photographer DeWayne Rogers.
About rolling out Magazine:
Rolling out, the nation's largest free urban weekly, is a digital and print magazine that focuses on the black experience in response to entertainment, politics, fashion, culture, sports and lifestyle points of interest. Headquartered in Atlanta, rolling out is positioned as the voice for the African American experience, using its newspaper as a platform in the marketplace to express urgency for education reform, and to document entrepreneurial endeavors and other relevant issues in the Diaspora. For information on rolling out, please log on to rollingout.com.