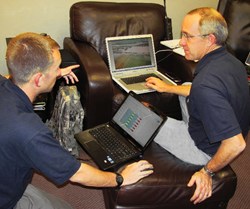 Colorado Springs, Colorado (PRWEB) September 19, 2013
Cvil Air Patrol aerial and ground damage assessment missions photographically documenting Colorado's flood disaster are now in their fifth day. The missions, flown in support of the Federal Emergency Management Agency, the state of Colorado and local counties, have produced 6,000 photos to date.
Colorado Wing CAP aircraft are flying out of Centennial, Fort Collins-Loveland Municipal and Colorado Springs airports. The photos are being uploaded directly to FEMA's website, http://fema.maps.arcgis.com, to assist officials in reviewing the flood's impact and assessing priorities for damage control and assistance. The mission has included flights over Adams, Arapahoe, Boulder, Clear Creek, El Paso, Gilpin, Jefferson, Larimer, Logan, Morgan, Sedgwick, Washington and Weld counties.
Aircrews in red, white and blue CAP aircraft and ground team members are providing images of flooded rivers, roads, highways, bridges, towns, farms, residential property, vehicles and more at minimal cost to taxpayers.
In addition, CAP aircrews have flown representatives of FEMA, ABC News and Good Morning America, covering sections of the South Platte and Big Thompson rivers. The photographs and video included damage south of Greeley, where the U.S. 34 bridge across the South Platte is now washed away.
Use of images should include photo credit: Colorado Wing Civil Air Patrol
Contact is Lt. Col. Mike Daniels, CAP
PH: 303-674-7070
Email: goodknightbooks(at)juno(dot)com
###
Civil Air Patrol, the official auxiliary of the U.S. Air Force, is a nonprofit organization with nearly 61,000 members nationwide, operating a fleet of 550 aircraft. CAP, in its Air Force auxiliary role, performs 90 percent of continental U.S. inland search and rescue missions as tasked by the Air Force Rescue Coordination Center and is credited by the AFRCC with saving an average of 80 lives annually. Its unpaid professionals also perform homeland security, disaster relief and drug interdiction missions at the request of federal, state and local agencies. The members play a leading role in aerospace education and serve as mentors to more than 26,000 young people currently participating in the CAP cadet programs. CAP received the World Peace Prize in 2011 and has been performing missions for America for 71 years. CAP also participates in Wreaths Across America, an initiative to remember, honor and teach about the sacrifices of U.S. military veterans. Visit http://www.gocivilairpatrol.com or http://www.capvolunteernow.com for more information.