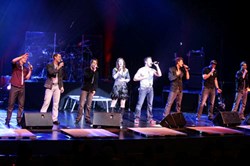 Branson, Missouri (PRWEB) September 19, 2013
After more than 20 incredible years of entertainment in Branson, The Haygoods have announced they will be moving to The Clay Cooper Theatre in 2014.
"The Haygoods have one of the most popular shows in Branson and I am extremely excited to bring them to my theatre." said Mr. Cooper. "Two of the top powerhouse shows in Branson under one roof. Get ready Branson, it's gonna be hot!"
"We are thrilled to be working with Clay and Tina Cooper next year and we can't wait to roll out our show in their theatre," added Timothy Haygood. "Clay's theatre will be the happenin' spot in Branson for 2014 without a doubt! He will be putting in all new seats next year to make it extra nice for our VIP show customers."
"We will be adding new production segments, new special effects, new music, new costumes, new lighting and lots of surprises as usual for next year," said Michael Haygood, production director for The Haygoods.
To see Branson discount package specials, click here.
"We are gonna blow the doors off Clay's theatre and have a blast!" said Dominic Haygood. "Clay and his staff are awesome and we look forward to packing the place out."
The Haygoods will perform the remainder of the Fall and Christmas season 2013 at RFD-TV The Theatre.
For 2014, The Haygoods will perform Tuesdays, Thursdays and Saturdays at 7:30 p.m. starting in February, as well as select 2 p.m. afternoon shows. The production will run the entire season through the end of December. Clay Cooper and The Haygoods will perform together for an unprecedented New Year's Eve blowout on December 31, 2014.
The Haygoods are one of Branson's longest running shows, having performed 6,000 shows for over eight million people since 1993. They are known throughout the Midwest for their energetic, modern and exciting style of entertainment.
To request more Branson vacation information, click here or call 1-800-432-4202.