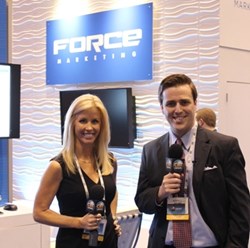 Atlanta, GA (PRWEB) September 19, 2013
CBT News, the official news source of the retail automotive industry, will be attending the National Automobile Dealers Association Convention in New Orleans January 24-27th. CBT News will be sponsored by Force Marketing, a full-service automotive marketing agency that specializes in direct mail marketing and digital direct marketing. Coverage at the convention will include exclusive interviews and extensive on-site reports.
At the last NADA Convention in February, CBT News garnered more than 40 interviews from elite professionals in the automotive industry. Those exclusive interviews provided thousands of CBT viewers with advice and insight into the retail automotive industry.
CBT News expects more exclusive interviews from the most prestigious names in the industry in its second trip to the NADA Convention. The CBT News booth, sponsored by Force Marketing, will be 2153.
About CBT News:
CBT News (http://www.cbtnews.com) is the official news source of the retail automotive industry. The web-based newscast combines the immediacy of the internet with a traditional broadcast news delivery format, complete with co-anchors and studio set, producing quality content often featuring interviews with leaders in the industry. The free site is rapidly growing, with more than 70,000 subscribers. In addition to the newscast, the site is chock full of information for dealers, including sales tips, video clips and articles highlighting topics like social media marketing, inventory management, fixed ops and more.