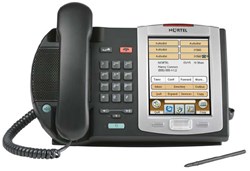 The fact Nortel phone system owners do not have to throw out their investment and start over is a huge win for our clients.
Niagara Falls, New York (PRWEB) September 20, 2013
Telephone Magic Inc. is now providing businesses that own either a legacy Nortel or current Avaya BCM or Communication Serverhope for an IP future with the i2000 IP phone series. Originally released by Nortel and subsequently further produced and supported by Avaya as their 2000 Series IP telephones, these desk phones are now a lifeline to small, medium and enterprise sized businesses that previously invested in a Nortel telephone system. The once venerable telecom giant introduced millions of business users to stable IP telephony and many of them are doing their best to maximize their investment.
Telephone Magic is now utilizing the Nortel Avaya 2000 IP phones series to allow owners of Avaya Nortel BCM 50/450, and the legacy Nortel BCM 200 / BCM 400, that support IP capabilities to add robust IP phones to their telephony network. 2000 IP telephones are also supported by versions of the Nortel / Avaya Communication Server 1000 / 2000 / 2100 and encompass a sleek, cutting-edge, ergonomic design with delivery of innovative capabilities.
Telephone Magic has long been a leading online distributor of Nortel phone system products. It now provides additional and replacement Nortel IP phones, BCM Media Bay Modules, BCM Key Code licenses, and expansion equipment. A massive worldwide base of former Nortel IP customers remains, along with new clients of the Avaya BCM and Avaya Communication Server.
Jeff Jackson, president of Telephone Magic, reflects "Avaya took over the Nortel platforms in 2009, including the BCM and Communications Server systems. For a few years Avaya continued to sell the BCM and Communication Server. The Nortel i2000 Series IP phones were also retained by Avaya. New Avaya 2000 series IP phones are available with the strength of Nortel's substantial networking technology. Re-manufactured Nortel i2000 series IP telephones are a cost-effective alternative to new VoIP phones. The fact Nortel phone system owners do not have to throw out their investment and start over is a huge win for our clients."
The Avaya Nortel 2007 IP phone incorporates a 5.7" color touch-screen, bringing multimedia presentation support to the desktop IP phone. Virtual Network Computing technology optimizes content pushed from external application servers in advanced text or graphical format. The "standard" display output is the usual business telephone functions such as phone directory, auto-dial, message retrieval and more. The "Applications" softkey also allows users to access other functions (if provided by the phone system) for such things as directions and road maps, company news, weather and even see who is at the front door by using the phone as the monitor for a security camera. The Nortel IP Phone i2007 has a USB port that supports standard USB mouse and keyboards for simple "point-n-click" access and navigation. Business telephony features are robust as delivered from Nortel Communication Servers.
The Avaya Nortel 2004 IP phone is ideal for managers, executives, and office administrators. This multi-line phone features a large LCD screen capable of displaying a maximum amount of information, and is well-suited for high call volumes. The i2004 IP phone is feature loaded and also supports the IP Key Expansion Module. The Nortel Avaya 2004 IP phone is directly connected to the LAN via a 10/100 BaseT Ethernet connection, offering simplified management and reducing the time and cost associated with moves, adds and changes.
The Avaya Nortel 2002 IP phone is a standards-based IP Phone that connects directly to the Local Area Network (LAN) via RJ-45 connector. The 2002 IP phone is feature loaded and also supports the IP Key Expansion Module. The Nortel Avaya 2002 IP phone is supported on both enterprise and carrier platforms and the display-based IP Phone i2002 is ideally suited for moderate call volume users, such as office professionals and technical specialists.
The Avaya Nortel 2001 IP phone is an entry level, single-line desktop IP telephone designed specifically for public areas such as lobbies, cafeterias, hallways, and break rooms. It is also ideal for low call traffic locations such as school classrooms and hotel rooms. Standard features of the Nortel Avaya i2001 IP Phone include 802.3af Power over Ethernet, a fully bit-mapped 2x24 character display, on-hook dialing, listen mode speakerphone, Message Waiting Indication, fixed keys, navigation and soft keys.
The Nortel 2033 IP conference phone is a full duplex, handsfree conference phone which is ideally suited for conference rooms of small-to-medium size and managerial/executive offices. The 2033 IP Audio Conference Unit is directly connected to the LAN via a 10/100 BaseT Ethernet connection, offering simplified management of the device.
The Avaya Nortel 2050 IP Softphone transforms your PC into a full-featured platform for voice, data, and video communications. The i2050 Softphone is designed for use as a primary or supplemental desktop telephone, or a telecommuting device. Users simply load the software and plug a Nortel approved headset or handset into the USB Audio Adapter port to start communicating.
The Avaya Nortel Key Expansion Module for 2000 series IP phones (24 key LCD KEM) can be added to the phase 2 versions of the 2002 and 2004 IP phones. The Nortel Avaya i2000 Series LCD KEM is a 24-Key programmable, self labeling LCD expansion module. Power is provided through 802.3af PoE or local power supply on telephone when PoE is not compatible or available.
The Avaya Nortel 2000 IP Phones AC Power Supply provides power for the Avaya Nortel i2000 Series IP phones when PoE is not compatible or not available. One Nortel Avaya 2000 Series Power Supply is required for every IP phone purchased in this case. To avoid loss of use for your i2000 Series IP phone, it is always a good idea to have additional Nortel AC Power Supplies on hand in case one becomes defective.
Says Jackson, "Any business that already has a Nortel or Avaya BCM phone system or Communication Server platform can now take advantage of the affordable 2000 IP phones line. It's a very solid IP series that leverages Nortel's history of networking expertise without requiring a business to toss aside their phone system and invest in a whole new platform."