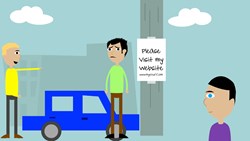 Soulseeds is here to help.
Grand Haven, Michigan (PRWEB) September 19, 2013
Ian and Meg Lawton always loved writing, so they started Soulseeds as a platform of self expression. They started with modest goals, but soon the blog became popular. They started getting interested in social media to help spread word about their blog, and couldn't believe what happened next. The traffic to their website shot up to 1,000 people a day, and then to 2,000, and quickly past 3,000. Their Twitter accounts skyrocketed past 100,000 followers each, and their Facebook page hit 30,000 and counting.
Their site became home for many people, looking for comfort, inspiration and tools to live more fully.
One site visitor, named Robin said,
"Your site truly enriches my life. Thank you for sharing things every day that make me think. And smile. And not give up!"
Another visitor, Tim said, "Wonderful to be connected with Soulseeds! In such a short time you have blessed me for a lifetime."
After seeing the positive impact their site and its social media outposts were having, Ian and Meg realized they wanted to help others get their voices out.
Ian described the origin of their Media business, "There are so many authors and bloggers out there who have such good things to say but don't know how to get the voice heard."
Social Media became a passion for Ian and Meg and not just because of their rapidly increasing network. Ian said this about social media in a blog post,
"I'm a huge fan of social media. It's in my top 10 life passions. I love it for its power to connect, to share wisdom, and create inspirational conversations. I love it for its ability to organize and empower change. I love it because it's fun, sometimes almost addictive. Maybe most of all, I love it for its democratic ability to put power back into the hands of people through the easy sharing of information."
Across all online channels now, their Soulseeds network includes several hundred thousand people, and keeps them busy with requests for guest submissions, speaking engagements and personal support.
They started Soulseeds Media to support like-minded bloggers to build their networks, and to encourage people to use social media for good. Meg said, "I never could have imagined meeting such amazing people, and it's a privilege to help them get their voice out there."
Soulseeds Media has created personalized social media campaigns for over 50 clients now. Their clients range from authors, coaches, musicians, pastors, clothing designers and nutritionists. In each case, they helped their clients build a network and multiply their traffic and sales.
As they grow, Soulseeds is branching out. They are about to launch a new site, and have a new video that describes their vision and services in a fun way. The video was created by Zenphany who connected with Soulseeds through Twitter, connected with what they read and reached out to see how they could help. Zenphany has created and produced animated video demos for Fortune 500 companies, small businesses & foundations. They share Soulseeds vision to help people amplify their wisdom and impact through animated videos.
When Megan Campbell reached out to Soulseeds to offer help, she said in an email to the Lawtons,
"We love what you guys are doing, and want to find a way to partner with you."
The video is the result of their collaboration.