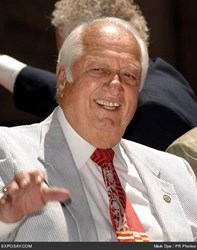 Long Beach, California (PRWEB) September 23, 2013
Legendary Dodgers player, coach and Hall of Fame star Tommy Lasorda along with current Dodgers catcher A.J. Ellis, pitcher Kenley Jansen and former Mets, Dodgers, Giants and Yankees star Darryl Strawberry will meet fans and sign autographs on "Dodgers Day," Saturday, September 28, 2013, during the Long Beach Coin, Stamp & Sports Collectible Expo, September 26 - 28.
The three-day show also will feature a public display of $10 million of California Gold Rush-era recovered sunken treasure from the 1857 sinking of the SS Central America, the fabled "Ship of Gold."
The Long Beach Expo, in the Long Beach, California Convention Center, 100 S. Pine Ave., will be open to the public for buying and selling sports memorabilia, gold and silver, rare coins, vintage paper money, rare stamps and other collectibles and estate jewelry.
Many of the 400 dealers at the show offer free, informal appraisals for the public. There will be educational seminars and collector's club meetings, and daily door prizes. Heritage Auctions will conduct a public auction of rare coins and currency.
The Central America was carrying tons of California gold when she sank in a hurricane in September 1857 during a voyage from Panama to New York City. The shipwreck site and the gold were discovered more than 7,000 feet below the surface of the Atlantic Ocean 25 years ago in September 1988.
The 25th anniversary display of over $10 million of recovered sunken treasure ranges from specks of gold dust to huge gold bars that weigh over 50 troy pounds each.
The Ship of Gold exhibit in a 40-foot long representation of the ship's hull is courtesy of Monaco Rare Coins of Newport Beach, California. It required months of work to coordinate with collectors who privately own many of the items that will be displayed.
Robert D. Evans, the chief scientist on the 1980s mission that located and recovered the fabulous sunken treasure, will be at the exhibit each day during the show to meet with visitors and present educational programs about the Ship of Gold.
Other exhibits at the September 2013 Long Beach Expo include the first-ever public display of the Coronet Collection, now the finest Morgan silver dollar set in the Professional Coin Grading Service (PCGS) Set Registry®. The collection will be displayed at the PCGS booth (#807), courtesy of Laura Sperber, Legend Numismatics of New Jersey and the anonymous East Coast collector who owns the coins.
A traveling display of items from the American Numismatic Association Edward C. Rochette Money Museum and Dwight N. Manley Numismatic Library in Colorado will make its California debut. The exhibit includes two examples of 1804-dated silver dollars, the "King of U.S. Coins," insured for millions of dollars each.
The exhibit will also include a selection of rare California National bank notes and California gold bank notes, notable numismatic errors such as a three-legged 1937-D Indian Head/Buffalo nickel and 1955 doubled die Lincoln cent, and archive papers of former United States Mint Chief Engraver Frank Gasparro.
Elected to the Hall of Fame in 1997, Lasorda will sign autographs from 10 am to Noon on Saturday, September 28. The cost is $89 per item and an additional $39 for a personalized inscription.
Current Dodgers stars Ellis and Jansen, will sign from 11 am to 12:30 pm. The autograph fees for Ellis are $29 and $10 additional for an inscription, and $35 and $10 respectively for Jansen.
Strawberry, a forceful player for 17 seasons in the major leagues who hit 28 homes runs his first year with the Dodgers in 1991, will be available from Noon to 1:30 pm. The cost is $39 for an autograph and $15 for an inscription.
"Representatives of PSA/DNA Authentication Services will be available onsite to immediately certify the signatures," said Cassi East, President of the Long Beach Expo, a division of Collectors Universe, Inc. (NASDAQ: CLCT). "The show also will feature some of the top sports memorabilia dealers in the country buying and selling historic sports treasures."
The show will be open to the public Thursday and Friday, September 26 and 27, 2013, from 10 a.m. to 7 p.m., and Saturday, September 28, from 10 a.m. to 5 p.m.
Public admission is $8 (good for all three days); $6 for members of any coin or stamp club; $4 for seniors 65 and older and for children ages 8 to 16. Free admission for children ages 7 and younger and for members of the Collectors Universe Collectors Clubs and Set Registries. Discount coupons for the public and a Schedule of Events are available online at http://www.LongBeachExpo.com.
For additional information or to pre-purchase autograph tickets, call the Long Beach Expo at (888) 743-9316 or email at LBExpo(at)collectors(dot)com.