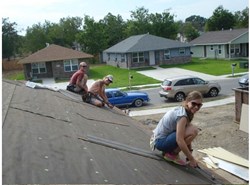 Greensboro, NC (PRWEB) September 21, 2013
The end of summer is quickly approaching and at Habitat Greensboro that means saying goodbye to the past year's National Service members and welcoming the new members who have joined our team for the next 11 months. The incoming class includes Sarah Edwards – Volunteer Coordinator, Justin Williams-Blackwell – Outreach Coordinator, and Sara Gray, Andrew Dittmer, AJ Rhoton, and Merritt Bussiere-Nichols who will be serving as Construction Leaders. Merritt will be serving his 3rd year with AmeriCorps at Habitat Greensboro.
For Habitat for Humanity of Greater Greensboro the National Service program is an important piece that helps us build capacity and assists us in our efforts to build homes, communities and hope in Greensboro. AmeriCorps members earn a modest stipend while serving in a variety of roles to help us operate more efficiently and effectively, so that we can serve more families. As Maria Hanlin, Executive Director and CEO of Habitat Greensboro notes, "The National Service program is a vital piece of our operations. Without AmeriCorps/VISTA members we would not be able to build as many homes, help as many families or mobilize as many volunteers".
However, the National Service program does more than provide valuable resources for Habitat Greensboro. It also provides opportunity, education and lifetime friendships for those who serve. "Opting not to stay on for a second year of AmeriCorps with Habitat Greensboro was a truly difficult decision. During my time as a member, I learned invaluable, practical skills regarding the work we did and how to be a leader. I also gained some great friends at our affiliate and will value my experience as one that helped to lay the foundation for the trajectory of my future." – Chase Salmons, AmeriCorps Member 2012-2013.
About Habitat for Humanity of Greater Greensboro
Habitat Greensboro was formed in 1987 by four Christians in response to their Habitat experience in Peru. Twenty-five years later, Habitat Greensboro has expanded to almost 5,000 volunteers and 30 staff who build, renovate and provide critical repairs to 30 to 35 homes each year, serving 418 families in Greensboro and 400 internationally.
How the Habitat Model Works
Habitat for Humanity partners with families who have steady employment for one year, participate in a thorough credit analysis, attend educational classes on budgeting and home repair and contribute 300 hours of sweat equity. Homeowners purchase their homes from Habitat at no-profit and with interest-free financing. Habitat then serves as the mortgage lender providing life of the loan 0% financing and loan servicing to Habitat homeowners.
About Habitat for Humanity International
Habitat for Humanity International is a global nonprofit Christian housing organization that seeks to put God's love into action by bringing people together to build homes, communities and hope. Since 1976, Habitat has served more than 600,000 families by welcoming people of all races, religions and nationalities to construct, rehabilitate or preserve homes; by advocating for fair and just housing policies; and by providing training and access to resources to help families improve their shelter conditions.