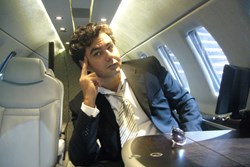 We go out of our way to help them [operators, brokers and luxury travel agents] out, and we are always here to help our colleagues – just as they help and support us every day.
Washington, DC (PRWEB) September 20, 2013
Discussions at a recent industry conference emphasized the importance for air charter companies to facilitate an environment of mutual understanding and trust with aircraft operators. That's a message that worldwide air charter brokerage company Paramount Business Jets (PBJ), the pioneer of exclusive Transparent Jet Charter Pricing that provides fair, reasonable, and transparent pricing to its members, has taken to heart throughout its years in operation.
"We need brokers and operators to work closely together and I think this is improving, there is no longer a 'them and us' mentality," said the director of a UK-based charter firm during a meeting of the Baltic Air Charter Association (BACA) at the Business Aircraft Europe 2013 conference, which concluded September 12. "But the best brokers are those who really understand the challenges the operators face so they can offer better services to their customers."
Close collaboration between the charter provider and operators throughout the process of arranging a charter flight is also a hallmark of PBJ's approach to business. In 2011, the company unveiled its "Charter Operators Bill of Rights," which acknowledges the appreciation and cooperative spirit between the Charter Broker and the Charter Operator, as well as the important role that Charter Operators provide to the aviation industry.
In part, PBJ's Charter Operators Bill of Rights states that, "we acknowledge the level of commitment made by Charter Operators to provide excellent service to our clients, [and] the time, effort, resources, dedication, and costs associated with building and maintaining a charter operation ... We promise to conduct all of our business dealings with operators in only the highest level of professionalism, [and] to only bring qualified, pre-approved, and legitimate trips to the Charter Operator."
The complete Charter Operators Bill of Rights may be found here. LINK: http://www.paramountbusinessjets.com/charter-operators-bill-of-rights.html
"This document places our company's Core Principles in writing," said Paramount Business Jets founder and CEO Richard Zaher. "It is one of many steps taken by our company to ensure fair business practices, and that the highest level of ethics is adhered to between both the broker and the operator to ensure that our mutual clients' needs are satisfied."
Operators attending the BACA forum also discussed the creation of a formal accreditation program recognizing air charter providers who operate with the utmost professionalism. One presenter noted that such a program, "would help both operators and customers to know that they are dealing with a bona fide charter broker, [and] could also help bring new clients into the industry."
"It is important that our industry reach out to operators, and let them know that, as a broker, we appreciate their support in providing our clients with impeccable services," Zaher added. "I found it very encouraging to see that this message has extended throughout the industry, and that it was a significant topic of discussion at the recent BACA conference."
Zaher also noted that PBJ often provides additional lift for operators, brokers and luxury travel agents worldwide, following the same fair and transparent business practices it extends to clients.
"There are many operators, luxury travel agents and brokers that call us needing a specific aircraft, or a charter solution," he continued. "We go out of our way to help them out, and we are always here to help our colleagues – just as they help and support us every day."
Paramount Business Jets researches over 1,000 trips per month for its clients, including one-way and transient flight specials, and potential savings on empty legs. PBJ offers charters worldwide with as little as 4 hours' notice and access to over 15,000 certified aircraft worldwide, ranging from turboprops, helicopters, and very-light jets, up to the largest and most luxurious Boeing, Airbus, and Global Express intercontinental VIP aircraft.
For more information, please visit http://www.paramountbusinessjets.com, or speak with a member of PBJ's experienced team of air charter professionals at (877) 727-2538.
***
Founded in 2005 by a pilot and Aeronautical Sciences graduate of Embry Riddle Aeronautical University, Paramount Business Jets is known throughout the charter industry for its exceptional service and cost savings. The company prides itself on its relationship with well-known operators, and use of the latest technology to offer its Members a larger selection of Part 135, pre-approved business aircraft. For more information, visit http://www.paramountbusinessjets.com.