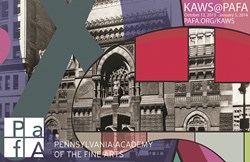 Philadelphia, PA (PRWEB) September 19, 2013
Following the popular 30th Street Station installation by Brooklyn-based artist KAWS this past spring, the Pennsylvania Academy of the Fine Arts (PAFA) presents KAWS @ PAFA, on view beginning October 12, 2013.
The KAWS @ PAFA installation features both indoor and outdoor components. Over 60 paintings and sculptures by KAWS will be installed in the galleries of PAFA's Historic Landmark Building, located at 118 North Broad Street, between October 12, 2013 and January 5, 2014.
Additionally, a new 9 ¾-foot KAWS sculpture, titled BORN TO BEND, will be installed on the pedestal on the front façade above the entrance of the Frank Furness-designed Historic Landmark Building, October 12, 2013 through August, 2014.
The exhibition creates an intriguing link between the Museum's 19th-century American art collection and historic architecture and KAWS' contemporary works, and a chance to engage in an artistic dialogue about PAFA's past and present.
"KAWS has created a significant new sculpture for the façade of PAFA's Frank Furness-designed building, inaugurating an exciting new series of sculptural installations in this historically charged setting. I am delighted that he has also created a magnificent body of new work specifically for this exhibition. KAWS' work in dialogue with both PAFA's architecture and our historic collection of American art will provide a fascinating dialogue, and will enable viewers, both new and old, to see art in a new context," says Harry Philbrick, PAFA's Edna S. Tuttleman Director of the Museum.
BORN TO BEND launches PAFA's new Sculpture Plinth Exhibition Program, which will present a rotating series of contemporary, attention-catching art in an unexpected location. KAWS' site-specific piece for the façade restores art to the Gothic plinth that was designed to hold sculpture, but that has remained empty for over 70 years.
From 1876 to 1937, a colossal headless statue unearthed in Greece graced the plinth, before it was removed due to severe decay. Believed to be a monument to Ceres, the Greek goddess of agriculture, the marble statue was presented to PAFA by Commodore Daniel F. Paterson in 1828. Prior to being installed on the plinth in 1876, the statue stood in the courtyard of the Museum's previous home at 10th and Chestnut streets.
BORN TO BEND will push the boundaries of traditional sculpture by re-engaging some of the most traditional tropes in art—the plinth itself, the idea of monumental civic sculpture, and an engagement with Frank Furness and George Hewitt's complex Victorian architectural motifs. Beyond revitalizing the façade of the historic building, KAWS' sculpture will draw new audiences to view PAFA's galleries.
The public is encouraged so share photos of the exhibition on social media using the hashtag #PAFAKAWS.
EXHIBITION-RELATED PROGRAMMING:
Family Arts Academy: Toy Design
October 13, 2 – 4 p.m.
Learn how to draw figures based on the work of KAWS, and create one-of-a-kind toys inspired by members of your family.
Holiday Camp
October 14, 9 a.m. – 3 p.m.
Discover the wonderful world of KAWS at PAFA's Art Camp this Columbus Day! Sessions are designed to appeal to all levels and interests of young artists, ages 5-15 years.
Art at Lunch: The Work of KAWS & the Sculpture Plinth Exhibition
October 23, Noon – 1 p.m.
Embracing PAFA's mission to engage the full spectrum of American art—including art made now—the Sculpture Plinth Program presents attention-catching art on the façade above the front entrance of PAFA's Historic Landmark Building. Museum Director Harry Philbrick engages in a dialogue about PAFA's past and present, and the accompanying exhibition of paintings and sculptures by KAWS in the historic galleries.
Stroller Tour
November 1, 10 a.m.
Explore the KAWS@PAFA exhibit with the little ones in tow! Enjoy a guided, participatory tour of the exhibition with Museum Education staff.
Homeschool Workshop
November 1, 1 p.m.
A collaborative program between PAFA's School and Family Programs, this Homeschool Workshop consists of a 45-minute tour of the exhibition, in addition to a 45-minute, KAWS-themed art-making activity.
Curator Talk: Harry Philbrick on KAWS
November 2, 2 p.m.
Harry Philbrick, Director of the Museum, and the in-house organizer of the project, discusses the genesis of the plinth project and the installation of KAWS' work in this historic building.
PAFA After Dark: KAWS & EFFECT
November 7, 6 – 9 p.m.
You've never seen PAFA's Historic Landmark Building looking as contemporary as it will when KAWS gets done with it. Enjoy a curated set of DJ music; participate in a "Kimpsons" Trivia Contest and show off your knowledge of all things Simpsons-related; make a KAWS-inspired button to take home; tour the KAWS exhibit; and watch out for pop-up dance battles by Repstyles Crew throughout the night.
Family Arts Academy: Off the Wall
November 10, 2 – 4 p.m.
Discover the fascinating history of street art, and design your own family stencil inspired by KAWS.
ABOUT KAWS
Brooklyn-based, KAWS is a world-renowned artist who exhibits in museums and galleries internationally. KAWS' art stands within the historical continuum that began with Pop Art, straddling the line between fine art and global commerce. From his 16-foot tall sculpture COMPANION (PASSING THROUGH) to his recent 32-foot tall wooden sculpture SMALL LIE, his artworks are immediately recognizable as he transforms iconic pop culture characters into thought-provoking works of art. His work possesses a sophisticated humor while utilizing a refined graphic language that revitalizes figuration with big, bold gestures and keen, playful intricacy. By producing fine art via thoughtful interplay with consumer products and collaborations with global brands, KAWS moves beyond the sphere of the exclusive art market to occupy a more complex, global market.
KAWS was born in Jersey City, New Jersey, and received his BFA from the School of Visual Arts. KAWS' museum exhibitions include solo shows at the Pennsylvania Academy of the Fine Arts, Philadelphia, Pennsylvania; High Museum of Art, Atlanta, Georgia; Modern Art Museum of Fort Worth, Texas; and the Aldrich Contemporary Art Museum, Ridgefield, Connecticut. His work can be seen at galleries internationally, including Galerie Perrotin, Paris, Hong Kong, and New York; and Honor Fraser Gallery, Los Angeles, California.
KAWS @ PAFA is supported by Barbara and Ted Aronson, Christie's, Arthur Dantchik, the Goldstone Family Foundation, and Richard W. Vague.
###
Founded in 1805, the Pennsylvania Academy of the Fine Arts (PAFA) is America's first school of fine arts and museum. A recipient of the 2005 National Medal of Arts presented by the President of the United States, PAFA is a recognized leader in fine arts education. Nearly every major American artist has taught, studied, or exhibited at the Academy. The institution's world-class collection of American art continues to grow and provides what only a few other art institutions in the world offer: the rare combination of an outstanding museum and an extraordinary faculty known for its commitment to students and for the stature and quality of its artistic work.