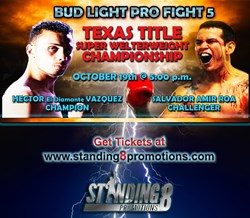 'I am preparing for this fight to be the toughest of my career, but know that come October 19th I will leave the ring still the champion,' added Vazquez.
Arlington, TX (PRWEB) September 19, 2013
Current Texas State Super Welterweight Champion Hector Vazquez (10-1) of Irving, Texas looks to be a fighting state champion on his way up the ladder as he takes on dangerous Salvador Amir Roa (6-2-1) of Austin, Texas via Salamanca Guanajuato, Mexico in an 8-round Super Welterweight Texas Title contest October 19, 2013 at the Bud Light Pro Fight 5 at Cowboys Dancehall in Arlington, Texas.
This upcoming challenge is reflective of Vazquez's professional career. He started off the object of heavy recruitment from some of the sports best managers as a result of a solid amateur career that included 165 contests, multiple national titles and wins over top prospects such as current Welterweight Champion Adrien Broner that led to his selection as the 2008 Olympic Alternate for Team Mexico. He started off fast by winning a 1st round KO in his debut on national television. After a loss in his second contest, he found that the phone had stopped ringing and the opportunities to ply his trade were few.
However, later that year after looking strong in sparring sessions with names like Amir Kahn, he was on a roll again with 3 wins in 5 months in 2011/2012 until a career threatening hand injury put him on the sidelines for a year and a half. In August after his long recuperation, Vazquez returned to the ring and won the Texas Title in an 8 round bout over battle tested Larry "Slomushon" Smith of Dallas.
"It was a difficult time. Things really looked bleak and were frustrating because I was injured just as things were starting to happen for me. Things happen for a reason though. My family, friends and team believed in me and kept me positive. This motivated me to resume my career. Winning the Texas Title meant a lot, but defending it will be much harder. Everybody keeps telling me that Roa is a fight, and that he might beat me," said Vazquez. "Things have never been easy for me in my professional boxing career. I work hard in the gym and feel great about being back. I have been fighting since I was 9 and always looked up to Oscar De La Hoya and Marco Antonio Barrera. To become great, they had to turn back the challenges of hungry fighters looking to make a name at their expense. If I want to be great, I have to do the same. I am preparing for this fight to be the toughest of my career, but know that come October 19th I will leave the ring still the champion," added Vazquez.
Salvador Amir Roa is a man who also has not had an easy road. He started his career 6-0-1 before being upset by nationally known spoiler Quinton Whitaker in fight for the then vacant Super Welterweight Texas Title. He dropped another decision a few months later before taking a year off from boxing.
Roa says of the upcoming fight, "This fight is mine. The title is mine. I am grateful for the opportunity to get what I should have the first time. I am not coming in to loose, and if Vazquez thinks that, he is dead wrong. I have been training very hard and will risk it all to win. I am not loosing this fight and the boxing world will notice me on October 19."
Roa has made some changes in the gym since his last fight. He is now training with longtime and respected trainer Raul Adams who has worked with many high-profile clients including Brian Vera who challenges Julio Cesar Chavez Jr. at the end of the month. Adams says of the fight "Salvador is ready and has been training hard. He is just as good as many of the promoted guys out there. After October 19, people will be talking about him. I believe in him, he believes in himself and soon the world will know that he is a contender."
While the main event promises to be a war between two hungry prospects, this all-out battle for the Title is also preceded by a solid undercard. In the 6 round co-main event rising Fort Worth star Tony Lopez with (6-0) (3KO's) looks to cap off his rookie year with a big statement as he squares off with the tough Jamal Parram (6-8) of St. Louis, Missouri in a JR. Featherweight contest. Lopez has exploded onto the Dallas/Fort Worth boxing scene in the last year with victories on national television, on the undercard of the Mikey Garcia-Juan Manuel Lopez in June, and with skill and explosive punching power in Arlington in June and August. In his last bout, he stopped gritty spoiler Ricardo Valencia (4-4) of Houston, who had not been previously off of his feet.
The seven bout card will also feature highly touted Welterweight prospect Craig Callaghan (4-0) (2 KO's) of Liverpool, England, Ann Wolfe trained Lightweight Travell Maizon (3-0) (3 KO's) of Austin, TX and the popular and inspirational 38 year-old Middleweight Mike Tufariello (2-0) (2KO's) of Carrolton, TX in separate bouts against opponents to be announced shortly.
The first bell of Bud Light Pro Fight 5 is at 5:00 PM and it is open to attendees of all ages. This event will be held at the vibrant Cowboys Dancehall in Arlington, Texas located at 2540 E Abram St., up the road from the Cowboys Stadium and Texas Rangers Ballpark. Tickets start at $20 and can be purchased by calling 817.265.1535 or online at http://www.standing8promotions.com.
The event is part of the Bud Light Pro Boxing Series promoted by Standing 8 Promotions. Since its inception last year, the promotional company has gained prominence in the boxing world by staging consistent cards, competitive fights, exciting entertainment, and featuring some of the very best young talent in the state. For more information about this event or Standing 8 Promotions, go to http://www.standing8promotions.com or check them out on Facebook at https://www.facebook.com/Standing8Promotions.