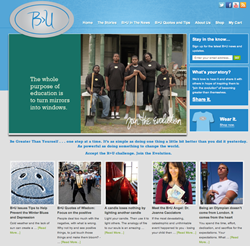 Austin, TX (PRWEB) September 24, 2013
Website B>U celebrates its one-year anniversary this October. In one year, B>U captured the inspiring stories of 27 individuals throughout the world. From Joe Fanchin chasing his Olympic dreams to Dr. Joanne Cacciatore helping grieving parents suffering the loss of a child.
The site has evolved over the year incorporating inspiring tips, advice and quotes for individuals to take small steps each day to become greater people. The website continues to grow as a source for individuals to use for daily inspiration.
Creators Matt Evans and Richard May hope the concept continues its popularity inspiring more B>U disciples to embrace the concept of a greater self for a greater world.
Evans began his journey in his late 20s when he realized the corporate life was not for him.
"I had the inspiration for B>U while walking in the woods one day trying to understand what I wanted to contribute and the "greater than" symbol popped into my head. That lead to the logo of 'B>U'," Evans reflects.
"I want to create a brand that promotes and endorses a higher purpose for individuals who seek the same goal making this world a better place through their own small, step by step individual improvements and contributions."
May joined Evans in late 2011 when the partnership began the brainstorming process to create the concept's first evolution of its website launched in October 2012.
"I was blown away by the concept as it identified in an intriguing and provocative brand of the self reliance and fulfillment philosophy I have adhered to for years," comments May.
"Our obvious first step was to build and design its website which took 10 months to complete. But the website is just the tip of the iceberg. We plan to create the social hub for the worldwide community of individuals that are joined together to make this world a better place."
Now, after a year since launching the website, they feel good about its prospect. But they say the best part so far is the realization that they had the courage to follow through, turning their concept into reality. They now want to brand the icon into a logo in a similar way as "life is good" and look to retailers to carry the brand through shirts and caps as their next phase.
Evans and May readily admit that building a website, company and clothing brand around such a grand philosophy is a daunting task. They don't care as they forge ahead with a relentless pursuit to change the world one person at a time.
About B>U:
BGreaterThanU.com offers lifestyle tips and inspirational stories about individuals being greater than themselves for a greater world. B>U is their clothing line to brand the philosophy. For more information, go to BGreaterThanU.com.