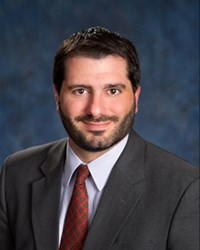 Best of the Best - DUI Attorney
Denver, CO (PRWEB) September 19, 2013
Colorado defense attorney Jay Tiftickjian was voted "Best DUI Attorney" in Law Week Colorado's 2013 poll for attorneys and judges. Law Week Colorado is the official bar journal for the State of Colorado pursuant to statute. Tiftickjian was also awarded the Barrister's Best award as 'Best DUI lawyer" for the second consecutive year.
Once per year, Law Week Colorado puts out its "Best of the Best" issue, listing one attorney from each category of law practice. There are two sections for each area of practice—the Barrister's Best Award and the People's Choice Award. The editors of the publication determine who is the Barrister's Best lawyer based on achievements over the past year, and the People's Choice Award is based on a vote by attorneys and judges.
This year has been a special one for Tiftickjian and his law firm. Colorado DUI Defense: The Law and Practice was released in September by Lawyers and Judges Publishing Company, a legal textbook that Tiftickjian authored with attorney James Nesci. In addition, Thomson-Reuters Publishing Company also released Facing a DUI in Colorado: What You Need to Know, a guide for motorists accused of drunk driving.
In June, Tiftickjian was one of the voices for the Colorado Criminal Defense Bar's press conference in front of the Colorado Supreme Court, which led to the Governor shutting the doors on the Colorado Department of Health's blood testing lab. He provided expert legal analysis to many news outlets regarding the problems in the State's primary DUI blood testing facility, including interviews with National Public Radio and the New York Times.
In addition to his efforts outside of the courtroom, Tiftickjian and the team of defense attorneys at Tiftickjian Law Firm successfully defended over a hundred people charged with driving under the influence or other traffic and criminal offenses. He was also voted on the Colorado Criminal Defense Bar's Board of Directors in May.
"I am very honored and humbled by this recognition considering the great number of outstanding DUI defense attorneys in our State," said Tiftickjian about the awards and recognition. "If not for the wonderful attorneys and staff at the law firm, I would never be recognized for this category."