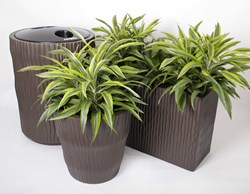 Beautiful nature inspired planters.
Highland Park, IL (PRWEB) September 23, 2013
T2 Site Amenities is pleased to announce it's nature inspired line of recycling receptacles and matching planters.
This San Mateo series is designed for indoor or outdoor use. Constructed from fiberglass, this collection will not rust or corrode and is impervious to salt air and the hot sun.
According to Lori Tilkin, President of T2, "The organic look of the San Mateo series, has been welcomed by many hotel properties. Having products that work both indoors and outdoors allows for a more cohesive design across the property."
Tilkin also noted that one large hotel property in Hawaii had purchased over 100 units of the San Mateo series. They have been delighted how this series has blended into its tropical environment.
The San Mateo is part of the collection of planters and matching trash/recycling receptacles offered by T2 Site Amenities.
About T2 Site Amenities
T2 is the leading supplier of upscale trash/recycling receptacles, planters, and pool towel valets to the hotel industry. Our products are found in Westin, Sheraton, W Hotels, Hyatt, Hilton, Intercontinental, Marriott and Ritz Carlton properties across North America. T2 also offers benches, bike racks and many custom products.