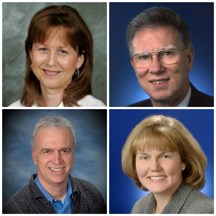 Because of what we have accomplished, I am anticipating more great things for the company and its clients in the coming year.
Bloomington, IN (PRWEB) September 19, 2013
BioConvergence publicly announced today that they have appointed a new Board of Directors. Kathy Jackson was named as Chair, with Dr. Rafik Bishara, Ken Martlage, and Alisa Wright as board members.
Jackson is a senior executive consultant and a principal with Compete Indiana, LLC. She helps growing organizations to identify and correct strategic gaps within their businesses, especially when pertaining to employee care and customer satisfaction. Jackson guides her clients with the best practices and expertise she utilized over the past 12 years in her senior-level executive positions (including President and CEO of Novia CareClinics, LLC) and in her nearly 20 years spent as an educator.
Bishara is a well-known expert in the pharmaceutical supply chain distribution sector. His specialty of Good Cold Chain and Temperature-Controlled Management has led to numerous industry contributions. He has served on the board or as an advisor to many organizations (including Sensitech, Inc., Cryoport, and the World Health Organization); he is also the current Chair of the Pharmaceutical Cold Chain Interest Group (PCCIG) within the Parenteral Drug Association (PDA). He spent 35 years at Eli Lilly & Co. as Director, Quality Knowledge Management, and Technical Support.
Martlage coaches individuals, teams, and corporations in leadership development. He spent 28 years at Eli Lilly & Co. in various management positions and retired in 2000. The past 13 years have been dedicated to international consulting across multiple industries with Compete Indiana, LLC; Phoenix Images, Inc., and Tercon Consulting. His experience includes coaching senior management, team alignment, and facilitating organizational culture shift. Martlage also spent 12 years as a lecturer at Indiana University-Purdue University Indianapolis (IUPUI).
Alisa Wright, CEO of BioConvergence, said of her fellow board members and of the announcement in general:
"BioConvergence is thrilled that our Board is comprised of people with the passion and know-how needed to take our firm to the next level. In the last year, each of the board members has been collaborating with internal teams to improve operations. Because of what we have accomplished, I am anticipating more great things for the Company and its clients in the coming year."
Wright notes that the backgrounds and experience levels of the Board's members will support and compliment the Company's objectives.
Wright began her career in the pharmaceutical industry with firms such as Eli Lilly & Co., Cook Pharmaceutical Solutions, and Baxter Pharmaceutical Solutions. During her 25 years of experience, she identified many industry gaps; in response, she founded BioConvergence to help companies consolidate their supplier base, mitigate risk, and speed products to market, all in an effort to provide patients with better healthcare treatments. BioConvergence is in its seventh year of service.
Erick Ponader, Partner at Taft Stettinius & Hollister LLP, continues to serve BioConvergence as General Counsel.
For more information, please visit http://bioc.us/about-us/board-of-directors/
About BioConvergence
BioConvergence is a contract manufacturing organization for the life sciences industry, offering outsourcing partnerships for formulation development, testing, production, and supply chain services. Headquartered in Bloomington, Indiana, they have over 50 employees with five centuries' worth of combined experience in the pharmaceutical industry. Their unique E-Transparency® System provides transparency and flexibility to their clients, while offering superior, quality-driven outsourcing services. For more information, visit http://www.bioc.us.