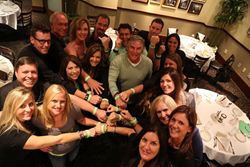 "It Works! is proud to support a cause that is changing the lives of children in need," said Pentecost.
Bradenton, Fla. (PRWEB) September 20, 2013
It Works! Global challenged its sales force to make a difference in the world and the group rose to the challenge by donating $150,000 to feed more than 60,000 children through Children's Cup.
The challenge began at the company's Seattle conference where its sales force raised $25,000, which was then matched by It Works! Global's CEO Mark B. Pentecost and his wife Cindy for a total of $50,000. The mission to spread hope didn't stop in Seattle; over the next 10 days, the It Works! sales force continued to raise funds that the Pentecosts matched again, bringing the final donation total to $150,000.
Children's Cup, a non-profit organization founded in 1992 by Dave and Jean Ohlerking, reaches out to hurting and forgotten children and offers them hope. Through Children's Cup, a $5 donation can feed two children for approximately four weeks.
"It Works! is proud to support a cause that is changing the lives of children in need," said Pentecost.
It Works! sold "Give Hope" bracelets for $5 donations and the bracelets immediately sold out, exceeding all expectations.
In June, the Pentecosts traveled to Africa to meet some of the children who benefit from the It Works! Gives Back program.
It Works! Gives Back strives to make a lasting difference in communities locally and globally through financial, practical and emotional support.
Founded in 2001, It Works! Global is one of the fastest-growing consumer lifestyle direct sales companies. Inc. ranked It Works! Global No. 436 on its 500 list for 2013. The company is enjoying a 1047-percent growth over the past three years. It Works! debuted at No. 56 on the Direct Selling News Global 100, the annual industry ranking produced by Direct Selling News magazine. It Works! offers a variety of daily-use, instant-results products, including its signature and unique It Works! Wrap, a contouring product that can tighten, tone and firm any area of the body in just 45 minutes. The company currently pays commissions to more than 60,000 independent distributors worldwide. Visit http://www.itworksglobal.com for additional information.
###
For additional information, interview, image and product sample requests, contact Axia, the public relations firm, at 888-PR-FIRM-8, ext. 700.