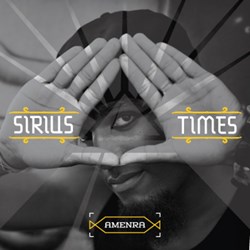 Fayetteville, NC (PRWEB) September 19, 2013
Coast 2 Coast Mixtapes announce the release of the "Sirius Times" Mixtape by Amen Ra. The 7 track project is currently available for download. The mixtape features production from Lakim, Mr. Carmack, and Tek.Lun.
Amen Ra is a Hip Hop artist from Fayetteville, NC. Born, Edward Henderson, into an upper middle class family; Ra experienced many of the advantages in life such as being educated at some of the finest private institutions and attending Hampton University for college. Ra used his education to learn about the rich history of his African American heritage and built a network of high achieving classmates and close friends. Ra's life took a drastic turn during his junior year of college when he was diagnosed with bipolar disorder, threatening the completion of the semester and jeopardizing many relationships. Ra was able to pull himself together and graduate through the use of meditation, therapy, medication and expressing himself creatively through spoken word poetry.
Amen Ra's message to the world is simple, "I am God and so are you." This awakening led Ra to study the great Ancient Egyptian civilization of Kemet and experience a cinematic-like exodus from the real world to the top of the spiritual world leading the Illuminati. Empowered by the spirits of the Ancient Egyptians, Ra's presence in this world is to be the soundtrack of the next revolution to take place for humanity. Equipped with his new found power, Ra drew on his love for Hip-Hop and early influences from artists like Tribe Called Quest, Black Star, and Will Smith to evolve his spoken word roots into a career in rap music.
Ra's mixtape "Sirius Times" is infused with futuristic sounds and neck breaking production from up and coming group Soulection and will be a great listen for anyone ready to free their minds. While Ra's mission expands far beyond the music, "Sirius Times" allows him to share his light with millions; a dream Ra fully intends on manifesting into reality. For more information on Amen Ra, check him out on his website.
About Coast 2 Coast Mixtapes
Coast 2 Coast Mixtapes are the most widely distributed mixtapes in the world, with over 100 million downloads/plays generated by over 200 volumes officially hosted by major artists. Coast 2 Coast has a solid reach in the new music industry with a digital magazine, DJ coalition, industry tips blog, yearly convention, and more. Coast 2 Coast Mixtapes represents a unique opportunity for artists of all urban genres, from major to indie. For more information, visit http://www.coast2coastmixtapes.com.