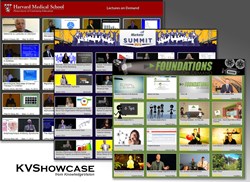 KVShowcase galleries are a great way to organize online presentations into appealing, user-friendly web collections that make it easy to find and access exactly what a visitor is looking for.
Lincoln, Massachusetts (PRWEB) September 20, 2013
KnowledgeVision Systems, the leader in online video presentation technology and tools, has introduced KVShowcase, a way of creating and displaying attractive galleries, portals, and microsites for online presentations. The feature can be used to present rich, dynamic, interactive collections of presentations that bring together multiple KnowledgeVision presentations from corporate events, learning resources, thought leadership libraries, and many other sources.
A KVShowcase gallery can display dozens or even hundreds of KnowledgeVision thumbnails on a series of pages that can be incorporated into a corporate website or intranet site, or can stand alone as a separate microsite. Clicking on a thumbnail opens up the corresponding presentation. Pull-down menus and a search bar make it easy to find presentations by categories or key words in presentation titles or descriptions. Viewers can add comments and feedback, rate presentations, and see how others have rated those presentations.
View an example of a KVShowcase video learning gallery.
"Increasingly, our clients are deploying large collections of interactive video presentations," said KnowledgeVision CEO Michael Kolowich. "Sometimes these collections have grown to include hundreds of presentations. KVShowcase galleries are a great way to organize these presentations into appealing, user-friendly web collections that make it easy to find and access exactly what a visitor is looking for."
KnowledgeVision's client services team works with clients to define and design KVShowcase galleries that meet the specific goals of those clients, and implements them with standard tools that are easy to customize and expand. Each gallery is customized to the design standards and trade dress of the sponsoring company. Key applications for KVShowcase galleries are: events and conference presentations, learning resource centers, dealer/channel information collections, and thought leadership libraries.
KVShowcase galleries can take advantage of KnowledgeVision's award-winning KVTrack viewer-level tracking and engagement scoring features. In addition, KVShowcase galleries can be e-commerce-enabled to monetize content on an individual pay-per-view or subscription basis.
ABOUT KNOWLEDGEVISION SYSTEMS
KnowledgeVision is single-mindedly focused on making online video work harder:
-to make it perform better as a content marketing tool;
-to make it more impactful as a sales tool;
-to make it more engaging as a learning tool; and
-to make it more effective as a corporate communications tool.
More than 25,000 companies and individuals all over the world use KnowledgeVision's tools to create, share and track synchronized online video and audio presentations, and make them available from web browsers and mobile devices anytime, anywhere.
KnowledgeVision is a venture-backed company based in Lincoln, Massachusetts.