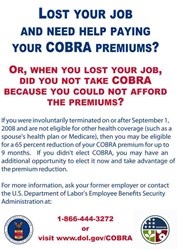 State and Federal Poster, Inc. make the notification forms and compliance posters available to all businesses in an all inclusive kit!
Los Angeles, CA (PRWEB) September 21, 2013
The American Recovery and Reinvestment Act of 2009 (ARRA) provides for premium reductions and additional election opportunities for health benefits under the Consolidated Omnibus Budget Reconciliation Act of 1985, commonly called COBRA. Ensure that the HR department is current on the policy with the COBRA Compliance Kit.
COBRA gives workers who lose their jobs and health care benefits, the right to purchase group health coverage provided by the plan under certain circumstances. State and Federal Poster, Inc. makes it quick and easy for the HR department of a business to be compliant with the newest updates on the act with an all inclusive kit containing 5 COBRA notice to continue healthcare coverage forms, 5 COBRA continuation coverage election forms, and 5 continuation of coverage posters.
Don't let the HR department be without the mandatory forms for continued health care coverage of previously employed personnel. Especially with the recent healthcare reforms passed by earlier this year, no company should be without vital compliance posters and forms.