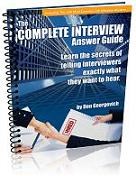 Smart job seekers use The Complete Interview Answer Guide to prepare for their job interviews.
Cleveland, Ohio (PRWEB) September 20, 2013
Job Interview Tools, a preferred resource for job seekers throughout the country, announces the release of the latest edition of The Complete Interview Answer Guide. The guide includes the latest questions often posed in job interviews, along with the ability to directly e-mail author Don Georgevich with any addition questions applicants may have.
"What you don't know can hurt you in a job interview," says Georgevich, who founded Job Interview Tools. "That's why smart job seekers use The Complete Interview Answer Guide to prepare for their job interviews.
The book, which is available in both e-book and hardcover, includes the best answers to more than 200 tough interview questions. Georgevich provides answers to questions like, "Why did you leave your last job?" and, "What do you consider your most significant weaknesses?" Many applicants get the answers to these questions wrong, possibly costing them jobs. In a tough job market, Georgevich has found that it's more important than ever that applicants impress interviewers.
Whether job candidates are entering the professional workforce for the first time or returning after being employed for a while, Georgevich has found that the environment for interview candidates has changed. He created Job Interview Tools to help applicants navigate those changes in order to boost their chances of landing a job as quickly as possible.
The Complete Interview Answer Guide also addresses today's behavior-based interview questions. These questions ask subjects to recall specific times they've encountered certain issues and describe how they handled those issues. Georgevich provides tips on answering questions such as, "Tell us about a time when you had to work on a tight deadline. How did you accomplish your tasks on time?"
Georgevich explains the STAR model of answering behavior-based questions. STAR stands for "Situation, Task, Action, and Result." By plotting out answers ahead of time, candidates will be prepared when behavior-based questions arise during interviews. Using the STAR method, interview candidates creates a story that has a beginning, middle, and end, which both engages the interviewer and shows the candidate has given serious thought to his or her response.
Job Interview Tools is a website that walks job seekers through various facets of the job search process, including resumes, cover letters, and interviewing for a job. Founded in 2006, the site has become known as a valuable source of e-books, videos, and articles on identifying and landing the perfect job.
Georgevich is a respected authority on the subject of writing resumes and navigating the job interview process. His videos and articles are often featured on websites worldwide. Prior to founding Job Interview Tools, LLC, Georgevich served an interviewer for Exxon Mobil and several consulting companies in Ohio.
The Complete Interview Answer Guide is available for $47 in downloadable e-book format or $97 with free shipping in hardcopy format. The book comes with a 100 percent money-back guarantee. To order The Complete Interview Answer Guide, visit http://www.jobinterviewtools.com/.