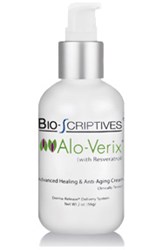 If you've been looking for an anti-aging cream that keeps your skin feeling and looking supple hours later, then Alo-Verix is for you.
Danvers, Mass. (PRWEB) September 24, 2013
Beauty bloggers and publications recently weighed in on Bio-Scriptives Alo-Verix, a potent anti-aging moisturizer with resveratrol. The results are clear: Alo-Verix is quickly becoming a go-to product for beauty experts and aficionados. The bloggers found Alo-Verix useful as a daily moisturizer even in dry weather, and several reported firmer, younger looking skin with regular use.
Alo-Verix is free of controversial additives like parabens, wax, paraffin, petrolatum or mineral oil. Instead, Alo-Verix's formula contains many healthful skin conditioners like aloe vera, shea butter and resveratrol, a powerful antioxidant that's currently the focus of significant media and medical interest for its anti-aging capabilities.
"If you've been looking for an anti-aging cream that keeps your skin feeling and looking supple hours later, then Alo-Verix is for you," wrote SheKnows blogger Michele B.
"I don't like to be heavily moisturized and prefer to stay on the light side. That's the real advantage for me. I felt properly moisturized but didn't feel like I had just put heavy creams on my face," blogger Fadra N. of All Things Fadra explained. "I think it's doing a great job for my skin and, at $40/bottle, runs at a price I would expect to pay for an anti-aging cream."
Canadian Dealfinders blogger Lynda T. said, "The best part was that my skin continued to feel soft all day. I couldn't resist touching my face all day amazed how soft it felt." She added, "This cream has been a blessing."
"Overall, I'm so pleased with this product, and I would recommend it to anyone looking for a trusted moisturizer that focuses on reducing the signs of aging. Maybe I'll still look 26 for many years to come," praised Camille M. of the blog Dandy Giveaway.
Alo-Verix can be purchased online at Bioscriptives.com. Additional information about the product and an online media kit can also be found on the Bio-Scriptives website.
About Bio-Scriptives Alo-Verix: Alo-Verix by Bio-Scriptives is a powerful anti-aging moisturizer formulated with high quality natural ingredients, including the potent antioxidant resveratrol. Alo-Verix's formula is free from many preservatives and irritants present in other anti-aging products. With daily use, Alo-Verix combats dry skin and prevents visible signs of aging. Alo-Verix is available from Bio-Scriptives, makers of high quality skin care and topical pain relief products. For more information, visit BioScriptives.com.
# # #
For additional information or to schedule an interview with representatives from Bio-Scriptives, please email Dina Ely at dina(at)smbcompanies(dot)com or call Dina at (800) 670-5543 x115.