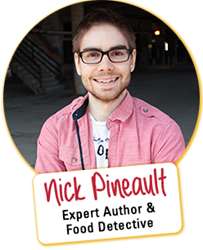 The Truth About Fat Burning Foods Reveals Three Step Solution for Stocking Healthier Foods in a Day
Los Angeles, California (PRWEB) September 24, 2013
The Truth About Fat Burning Foods is a nutrition program now available online, which provides a three step method for eliminating fat storing foods and stocking fat burning ones in less than 24 hours. It was created by Nick Pineault, an author and food detective. Pineault has spent over seven years of research to build his knowledge on nutrition. The strategy detailed in the program enables people to burn 82% more fat each day, just by eating differently.
In The Truth About Fat Burning Foods, the first step is to stop trusting food labels. One must be cautious of fake ingredients, hidden claims, and more on these. In addition, the process of burning vegetable oil destroys healthy fats, while trans fats not listed are dangerous as well. The program helps users avoid such hidden and dangerous compounds in foods.
Step two says to stop avoiding saturated fats, as studies have recently shown these reduce the risk of heart disease while supporting weight loss. Avoiding fake health foods is the subject of the third step. This is based on consumer reports revealing a high incidence of fake olive oils which are not as healthy as the producer claims.
In the program, these three nutrition mistakes are covered, as are a healthy salt that regulates blood pressure, how to tell if cooking oil is real and healthy, and a type of red meat that can help burn fat. It also talks about hidden artificial sweeteners, the soy products to avoid, and other commonly healthy labeled foods and ingredients which are not so.
Available for $27, The Truth About Fat Burning Foods is available with free bonuses including The Truth About Protein, Fat & Carbs, The Truth About Condiments, Snacks & Seasonings, and The Truth About Drinks. In addition, bonus extras covering superfoods, managing the grocery cart, supplements, and a four-step diet program are included.
For more in-depth details on the program and the topics covered, go to Go and Get Healthy website to learn valuable information and purchase the package.
About Go and Get Healthy
Go and Get Healthy is a health product information and review website. Covering topics such as alternative health, wellness, and healthy living, it features posts on the latest programs for weight loss, muscle building, and other common health subjects. The WordPress website is divided up into Men's Health, Women's Health, and Weight Loss categories, updated as new health products become available.