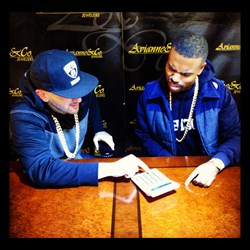 Men's jewelry has found itself in the midst of a renaissance.
New York, New York (PRWEB) September 25, 2013
Men's gold jewelry is an emphatic gesture in the contemporary gentleman's wardrobe. While traditionally limited to a small selection of accessories, men's jewelry has found itself in the midst of a renaissance in which the bold and assertive are valued over the more traditional and uninspired. At the forefront of this movement are the master craftsmen at Avianne & Co. Jewelers. Working from their flagship store in the heart of New York City's famed Diamond District, the team has developed a reputation for innovative designs that challenge traditional forms with inventive technologies and materials.
Oftentimes, jewelry mirrors its wearer's own disposition. Among the more expressive patrons of fine diamond jewelry today, stand-up comedian Lil Duval has developed a diverse collection of men's solid gold jewelry that is just as energetic and vibrant as its owner. The comic's most recent purchases include a lustrous Yellow Gold Rope Chain along with an exquisite Yellow Gold Chai Pendant. Handcrafted with radiant 14K yellow gold, the chain is customizable in yellow, white, and rose gold, as well as in black rhodium plating in a variety of lengths. Securely fastened with a durable lobster claw clasp, the chain features the diamond encrusted Chai Pendant. Entrancingly crafted in 14K yellow gold, the pendant is detailed with brilliant round-cut diamonds set using the remarkable micro pave setting technique known by only a handful of jewelers in the country.
A regular at the New York City-based jewelry store, the internationally acclaimed comedian has developed an incredibly diverse and refined collections of gold jewelry for men, much of which was designed exclusively by the master jewelers at Avianne & Co. Lil Duval's meticulously crafted gold chain and pendant are available for purchase online or by calling 88-243-4344 to speak with a dedicated sales representative.