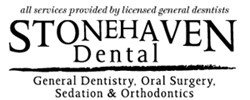 Salt Lake City, Utah (PRWEB) September 21, 2013
Are you avoiding dentists in Utah in fear that insurance will not cover the procedure you need?
Family dental insurance is expensive and typically only covers "routine procedures." However, many dentists can't even do x-rays with the typical compensation of most insurance plans, let alone significant procedures such as root canals in UT. Stonehaven wants to change the way people think about the dentist office by offering patients a comprehensive dental plan and cost effective treatment. The company has introduced a comprehensive plan that ensures affordable prices to individuals who are finding it difficult to pay for procedures. With an annual fee and large amount of perks, this plan is luring new patients.
Stonehaven family dental of Salt Lake City is dedicated to having patients leave with a smile on their face.
Insurance is expensive and people don't often have it as one of their go to resources. Stonehaven wanted to remedy their lack of funds by creating a plan that offered discounted prices and affordable procedures. The comprehensive plan being introduced by the company boasts a variety of features for their patients, including no yearly maximum, no deductibles, no claim forms, no pre-existing conditions limitations and no waiting periods; patients can begin using the plan immediately. Options include single, dual and family plans. With an annual membership fee, patients receive certain procedures, such as exams and x-rays for free. It also provides a discounted price on other major procedures, proving to be a viable option for individuals in need of dental implants or root canals in UT. With this membership plan, Stonehaven dentists in Utah are proving their desire to make dental care more affordable for everyone.
As product pricing and the cost of living increases, Stonehaven family dental of Salt Lake City want to ensure that patients get the treatment that they and their families need. Offering a membership plan that helps reduce costs allows more patients to find the relief and treatment they need, whether it's a cleaning or root canals in UT. With the creation of the comprehensive plan, Stonehaven dentists in Utah wanted to provide options for individuals who lacked insurance and offer obtainable options. For more information about their comprehensive plan, visit their website at http://www.stonehavendental.com.