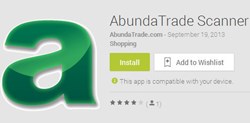 States AbundaTrade's Kent Wagner, "Traders are now in the driver's set with our new Scan and Submit List Android ™ AbundaScan App."
Mount Pleasant, SC (PRWEB) September 20, 2013
AbundaTrade, the recommercing company that trades, buys and sells used CD's DVDs, video games and electronic gadgets, has taken the company's business to the next level by launching the Android™ AbundaScan app. The AbundaScan App allows traders to submit real time lists of trade items for quotes from the company. Sales of Android™ smart-phones are growing daily, monthly and quarterly so for the company adding this new app to help the company's traders and sellers get real time information on prices of found items on the spot made more than perfect business sense.
Click HERE to view a video that explains more about the AbundaTrade AbundaScan App.
The company's new Scan and Submit Trade Lists Android™ AbundaScan App gives traders with the company a real time tool to travel out, hunt down bargains and then submit a entire lists of items via Android™. Bringing this app to market for the company's traders is a smart and strategic step for the company as it allows traders to make moves on the go, buy used items on the spot while at places like garage sales and it also allows traders to submit lists of items for price quotes instead of submitting items one at a time.
AbundaTrade.com came onto the global reCommerce scene when the company opened for business in 2008. The primary focus of the company is to buy trade and sell used items including phones, laptops, sound systems, game consoles, gadgets, and more.
Established in 2008, AbundaTrade.com is proud to be a part of the global reCommerce industry. Their efforts are focused more on trading and selling of used items instead of discarding old items in favor of new ones. By concentrating on the options available through trading items, AbundaTrade.com offers its customers the opportunity to obtain items for less as well as providing an environmentally friendly way to shop. In addition to helping the environment by repurposing phones, gadgets, books, CD's, DVD's and video games, AbundaTrade.com also uses reuses packing material and recyclable shipping materials whenever possible. At AbundaTrade, they believe in being smart and mindful consumers.
"Traders are now in the driver's set with our new Scan and Submit List Android ™ AbundaScan App. When bargains come along the moment to buy can arrive and then disappear in an instant. Waiting for values on trade items when submitting items to recommercing companies one at time, via PC or via an app, takes a long time," states AbundaTrade's Kent Wagner. "Our new Scan and Submit List Android™ AbundScan app gives traders the power they need to submit lists of trades they want to make and get a real time quote back from AbundaTrade on the spot. When the quote is a good one where the trader is going to make a profit from buying then selling items to AbundaTrade everyone makes out, from the seller of the items or item, the trader using the Android™ AbundaScan app and our company. It's a win, win, win, all the way around."
Description of the AbundaScan App
Use the AbundaScan app on an iPhone to get real-time values on all CD's, DVDs, Video Games, and Books. Pending condition these quotes will be contracts for cash from AbundaTrade.com for up to 15 days.
What's New in AbundaTrade Android™ AbundScan App Version 1.1

Ability to log in with AbundaTrade.com account
Add scanned items to AbundaTrade list
Auto-Scan feature allows for scanning and automatic adding of multiple items in a row
About AbundaTrade.com:
The company, AbundaTrade.com is the modernization and revitalization of Millennium Music, a once stubbornly successful independent music retailer and Inc Magazine case study. AbundaTrade.com guarantees the highest overall value online for your gadgets, used CDs, used DVDs, used Books, used Blu-Rays and used Video games. The company specializes in 're-commercing' consumer products by purchasing them for cash then reselling them online. The company typically pays significantly more for more products than any other company in the industry