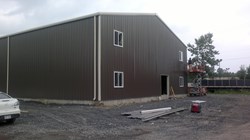 We were in a factory for rent and wanted to have our own manufacturing of steel structure
Unionville, Ontario (PRWEB) September 21, 2013
Olympia Steel Buildings of Canada was contracted to design and engineer an Olympia Steel Buildings® pre-engineered metal building for Mohawk Painting's new manufacturing facility. The project consists of one 7,200 square foot building.
Natalie Bouchard explained that, "We were in a factory for rent and wanted to have our own manufacturing of steel structure and reinforcement steel bridge. Our new shop is located in Kahnawake, Québec, on South shore of Montréal. We greatly appreciated the professionalism of Building Designer Mr. Raza Jafri and have highly recommended him to our surroundings for their future commercial and / or industrial needs."
Mohawk Painting was started by John L Deer in 1971 for bridge repair and bridge painting is a well established third generation family business. Services begin with 3D modeling using Tekla Structures software and finishes with the installation of your steel structure. We also fabricate and install structural reinforcements for bridges.
About Olympia Steel Buildings Serving Canada
Olympia Steel Buildings are supplied by Universal Steel Buildings Corp, an industry leader in pre-engineered steel buildings for over 40 years, and sole supplier of Olympia Steel Buildings® to commercial, industrial, agricultural, residential, government, military and civilian agencies. Olympia Steel Buildings come with their outstanding weather-resistant PBR roof, or you can opt for their patented Zeus-Shield® standing seam metal roofing system. GSA approved Olympia Steel Buildings set themselves apart by using better materials, better quality control, exceptional customer service and industry-leading warranties, including a 25-year rust through perforation warranty. Olympia pre-engineered steel buildings are precision engineered and expertly erected to give you a "tight" building that reduces air infiltration into the building saving on HVAC costs. They offer 12 energy efficient colors for metal buildings to reduce cooling costs and come with a 40-year warranty against chipping, cracking, peeling or blistering. Because of such key features, Olympia pre-engineered steel buildings can qualify under LEED Green Building guidelines. For more information about Olympia Steel Buildings Serving Canada, visit their website http://www.olympiasteelbuildings.ca or call 866-479-3292 for more information.