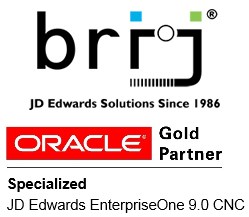 Greensboro, NC (PRWEB) September 20, 2013
brij, a long-time Oracle's JD Edwards reseller and a Gold level member of Oracle® PartnerNetwork (OPN), today announced it has achieved OPN Specialized status for Oracle's JD Edwards EnterpriseOne Configurable Network Computing (CNC).
To achieve OPN Specialized status, Oracle partners are required to meet a stringent set of requirements that are based on the needs and priorities of the customer and partner community. By achieving a Specialized distinction, brij has demonstrated its experience in delivering services specifically around Oracle's JD Edwards EnterpriseOne CNC through competency development, business results and proven success.
brij is proud to achieve Oracle's JD Edwards EnterpriseOne CNC Specialization. Achieving this Specialization status showcases brij's commitment to the Oracle's JD Edwards solution and their proven success in the marketplace.
About brij
As one of the oldest Certified Oracle's JD Edwards resellers in the United States, brij has been providing in-depth Oracle's JD Edwards technical and application sales, consulting, upgrade support services and project management since 1986. With over 100 JD Edwards customers, brij has assisted and managed implementations, upgrades and ad-hoc staffing across the Eastern United States, while consistently delivering on time, on-budget projects. Our goal is to increase customer self-sufficiency and long term value. We believe in a true partnership approach to projects and a consultative approach to delivering services. This means taking the time to truly understand our customers' business needs and requirements, along with the business goals driving those needs. To learn more about brij, visit http://www.brij.net.
About Oracle PartnerNetwork
Oracle PartnerNetwork (OPN) Specialized is the latest version of Oracle's partner program that provides partners with tools to better develop, sell and implement Oracle solutions. OPN Specialized offers resources to train and support specialized knowledge of Oracle products and solutions and has evolved to recognize Oracle's growing product portfolio, partner base and business opportunity. Key to the latest enhancements to OPN is the ability for partners to differentiate through Specializations. Specializations are achieved through competency development, business results, expertise and proven success. To find out more visit http://www.oracle.com/partners.
Trademarks
Oracle and Java are registered trademarks of Oracle and/or its affiliates.