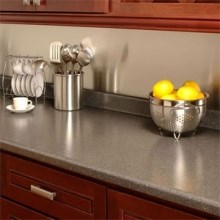 With a low entry cost, laminate is really a great consumer choice.
Pompano Beach, FL (PRWEB) September 26, 2013
The need for products to keep up with the ever-changing kitchen design trend is great, but the products available to the general public and that are affordable are not. One product that fulfills the trend for colorful, earth-friendly and high-tech is laminate for countertops.
Laminate for countertops is easy to install, very low-maintenance and comes in a huge variety of colors and finishes. In addition, many manufacturers such as Wilsonart have products that are GREENGUARD certified for low chemical emissions, thus providing better air quality in your home or office.
The hottest trend in laminate for countertops is the high-definition pattern. In this laminate, there is both a 3-dimensional pattern and finish built into the design, providing you the look of natural stone such as granite or quartz at a fraction of the cost. And there are even preformed edges available so you can complete your countertop look with a flat, bullnose or ogee edge.
"With a low entry cost, laminate is really a great consumer choice," says Polyanna O'Hara, Product Manager at CabinetParts.com. "With granite or stone, you are tied into a big investment as well as countertop and sink placement. With laminate, if you get tired of the pattern, your expense is not huge to change it."
To learn more about Laminate for Countertops or any other of the many accessories that CabinetParts.com features, please visit their website: http://www.cabinetparts.com/f/countertop-laminate-products.
About CabinetParts.com
CabinetParts.com is a leading Internet Cabinet Hardware Distributor.
Founded in 1997, CabinetParts.com has rapidly become a leading online merchant for Cabinet Hardware for both consumer and commercial customers.