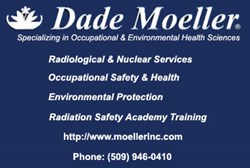 Richland, WA (PRWEB) September 24, 2013
Radiation protection firm Dade Moeller is pleased to share the Health Physics Society's announcement of the recipients of its 2013-2014 Dade W. Moeller Scholarship for studies in health physics. Dade Moeller sponsors the Health Physics Society's Dade W. Moeller Scholarship program through funds bequeathed to the Society's Dade Moeller Fund.
The Health Physics Society awarded Dade W. Moeller Scholarships to John Brogan and Jessica Gillis, both of whom are Health Physics graduate students at Colorado State University in Fort Collins, Colo. The Society also awarded the Dade W. Moeller Scholarship memorializing Kelly Austin to Trang Marquez, who is pursuing her Master's Degree in Health Physics through the Illinois Institute of Technology's online degree program and works at the Seattle Cancer Care Alliance. The late Kelly Austin was an exceptional health physicist and educator who managed the Dade Moeller Training Academy in Gaithersburg, Md.
In addition to a $2,000 award to support each student's graduate studies, the Dade W. Moeller Scholarship also provides $800 for each student to attend the Health Physics Society Annual Meeting.
The company's founder and namesake, the late Dr. Dade W. Moeller, was an active member of the Health Physics Society and served as its President in 1971. Dade Moeller established the Dade Moeller Fund in 2009 to advance Dr. Moeller's deeply held belief that continued education, sharing of knowledge, exposure to new ideas, and strong professional relationships are integral to an individual's success in his or her career. The Fund also sponsors the Health Physics Society's Dade W. Moeller Lecture Series.
About Dade Moeller: Dade Moeller provides a full range of professional and technical services to federal, state, and commercial clients in support of nuclear, radiological, and environmental operations. The company specializes in radiation protection, health physics, worker safety, and radiation training. Dade Moeller employs more Certified Health Physicists than any other company in the United States.