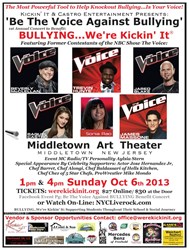 'The Voice helped change my life, I hope my voice can help make a difference, encouraging kids to speak up about what is happening in their lives." ~ season one Voice contestant Raquel Castro
Mommouth County, NJ (PRWEB) September 20, 2013
Former contestants of the NBC TV Show The Voice will be lending their voices for the first annual 'Be The Voice Against Bullying' Concert. Beverly McClellan, Trevin Hunte, Jared Blake, James Massone, Raquel Castro and Sonia Rao will be performing live at the Middletown Art Theater on Sunday October 6th, uniting together to deliver a clear and consistent message; that the most powerful tool against bullying is your voice. There will be two celebrity filled shows running over the course of the day; organized by BULLYING…We're Kickin' It, a national 501c3 nonprofit organization determined to help eradicate this ever growing epidemic that continues to plaque our youth.
Kickin' It is an aggressive course of action designed to enhance students' lives by improving the overall school and social climate providing programs, resources, assistance, guidance and support for administrators of all grade levels to implement. Kickin' It also provides day camps, after school and positive outlet programs for the students. This concert is to benefit the Kickin' It Kids Antibullying & Leadership Center opening in Monmouth County; it is the first center of its kind in the country, focusing on children from preschool through college emphasizing character education and respectful social behavior.
"In order for our youth to truly receive the message of support and understanding (anti-bullying) campaigns need to be unique, diverse and must be appealing to children of all ages, so they do not feel alone and isolated when trying to overcome the effects of bullying behaviors. We are proud to have so many diverse and longtime celebrity supporters that help reinforce and deliver Kickin' Its message." ~states Kickin' It Director Rocky Marciano Jr
"Who better to lead the example of not suffering in silence, then musicians whose voice is heard by millions? Kickin' It has ways of uniting individuals from all backgrounds that get the attention of our youth; but more importantly Kickin' It offers a lot more than just raising awareness." ~states Kickin' It Director Master Alan Goldberg
"You got to stand up to the bullies, for yourself and for your friends and Kickin' It helps kids to do that; I love being a part of this organization it really does a lot and the kids, they love it!" ~states longtime Kickin It supporter, former heavyweight boxing champion 'Merciless' Ray Mercer
The Be The Voice Concert is developing into one of the most powerful and creative affairs; to be hosted by TV/Radio Personalities Cris and Alysia of The Rendezvous Show with celebrity supporters Chef Barret, Chef Baldassari and Chef Alongi of Hells Kitchen, Chef Chez of 5 Star Chefs, Actor Jose Hernandez Jr., and pro-wrestler Mike Mondo, performances by indie artists who were given the opportunity to compete and share the stage with the Voice alum. There will also be student videos and art displays, a gift auction, welcome tables and an intimate reception following the 4pm show for donors and supporters.
"I am proud and excited to be a part of Kickin' It and this first annual event, The Voice helped change my life, I hope my voice can help make a difference, encouraging kids to speak up about what is happening in their lives." ~ states season one Voice contestant Raquel Castro
On Saturday October 5th Trevin Hunte will be making a special appearance, headlining the student led Kickin It Concert at Marlboro High School in NJ also featuring Frankie Z, The Dedication, FountainBlvd, Courtney Zahn, Stereotypical, Cailin Marie, Dylan Bernard and the top 5 finalist of the Be A Voice Against Bullying Indie Artist Contest.
"To be involved with Kickin' It is exciting because of how effective their programs are; to lend my voice for their benefit concert, sharing the stage with those I am inspired by and to be a part of something that can empower and help kids...leaves me speechless." ~recording artist Courtney Zahn
"Bullying can ruin someone's life, we should all do our part to recognize it and put an end to it; I am proud to be involved with Kickin' It, an organization that is a part of the action that is making the changes our youth deserves." ~Chef Barrret of Hells Kitchen
To be a part of the Voice Concert Weekend event; please contact office(at)werekickinit(dot)org For more information and event tickets http://www.werekickinit.org
About BULLYING…We're Kickin It: a 501c3 non-profit organization designed to improve the overall school & social climate, providing youth with the strategies to balance self-confidence, take responsibility of their own actions and positively intervene to help another. Kickin' It provides school projects, intervention strategies, faculty and bus driver support, in-service workshops to create peaceful classrooms, guardian workshops, mentoring and social media support. Kickin' It workshops helps educators, of all grade levels, meet the requirements of state Antibullying Laws.
We're Kickin' It Links:
http://www.werekickinit.org/Be_a_Voice.jpg
https://bethevoiceconcert.eventbrite.com/
https://twitter.com/WereKickinIt
https://www.facebook.com/groups/106185121928/
http://www.z100.com/event_portal/view/calendar/event.html?event_id=331092
CONTACTS:
Alysia Stern
https://twitter.com/AlysiaStern