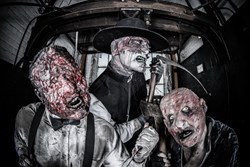 This Haunted House in Cleveland Ohio will terrify even the toughest of crowds!
Cleveland, Ohio (PRWEB) September 20, 2013
The Fear Experience Haunted House has opened its doors in Cleveland, Ohio and it isn't your normal haunted house. The attraction is housed inside a 90,000-square-foot building in Parma, Ohio. They have been constructing the 4 award-winning haunted houses for over 12 months and have spent over $200,000 in upgrades this year alone. With help from members of the band Mushroomhead in designing, building and detailing the sets, they have designed sets that rival Hollywood movie sets.
While traveling through all 4 of the award-winning haunted houses, guests will encounter the Braxton Estate, Centralia Mental Facility, Centralia County Fair, and they will end by traveling through a special haunted house called District 13. The entire event takes anywhere from 30-45 minutes to walk through and for anyone brave enough, they can even take a ride in a real coffin. The buried alive coffin ride is a motion simulator ride where they get inside a real coffin complete with sound, scents, and movement. This ride even has a night vision camera inside the coffin so guests can watch their friends scream!
Waiting in line for haunted houses can always be boring, but The Fear Experience has employed a large staff of terrifying monsters, fire breathers, fire eaters, grinders and more to entertain guests while you wait. The attraction also has a full line of merchandise and a professional photographer on site to take group photos with a monster!
The Fear Experience promises to bring a new level of haunted house that Cleveland, Ohio has never seen before. The event is now open weekends through halloween with ticket prices only $22 for all 4 haunted houses.