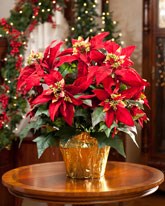 Our products look beautiful for years and require zero maintenance.
White Plains, N.Y. (PRWEB) September 20, 2013
Leading silk floral provider, OfficeScapesDirect, is pleased to present its holiday collection for 2013, highlighted by its ever-popular Premier Poinsettia and shimmering ice crystal greenery.
"Holiday décor is so easy and affordable with our products," Tim Hennessy, co-founder of Silkflowers.com said. "If you're one of the many companies that, year after year, decorate with classic items like poinsettia and amaryllis for the holidays, think of what you spend and the time it takes to keep the plants healthy," Hennessy said. "Our products look amazingly lifelike for years and require zero maintenance. They're easy to store and will save you the headache and cost of purchasing live decorations every year."
Highlights of the OfficeScapesDirect.com collection include the best-selling Premier Poinsettia in red, white or mauve/cream ($99 for large; $169 for extra large) and the festive, glittery line of ice crystal greenery that was introduced last year and became an instant favorite. The line has been expanded this year to offer not only white crystal but red as well. It includes a five-foot-long garland ($99), a 24-inch wreath ($139) and the sparkly Rose & Ice Crystal Accent ($79).
Other bestsellers include the classic Table Top Poinsettia ($49), the stunning stand-alone Amaryllis ($99), the chic Poinsettia & Magnolia Vase ($129), the striking Poinsettia & Ranunculus Centerpiece ($139) and the elegant Amaryllis, Rose, Holly and Berry Centerpiece ($169).
Silk florals also make wonderful holiday gifts. Silkflowers.com ships directly to a recipient's doorstep and includes a gift card that may be personalized with a message of choice. Unlike live flowers and plants, silk botanicals won't freeze or wilt due to extreme temperatures if left on a doorstep by a delivery person. Set-up is easy, too. The company expertly packages its products to arrive in perfect shape for instant display right out of the box.
For more information and high resolution photography, visit http://www.officescapesdirect.com.
OfficeScapesDirect (http://www.officescapesdirect.com) is the nation's premier supplier of designer-quality silk flowers, plants and trees for business interiors and commercial spaces. The company proudly offers the widest selection and deepest inventory of beautifully designed silk creations at affordable prices, delivered directly to offices and businesses. OfficeScapesDirect's sister company, Silkflowers.com, serves the consumer market in the same manner, offering the widest selection anywhere of designer-quality silk botanicals for enhancing home décor. Both companies are located in Cincinnati, Ohio, and White Plains, N.Y.