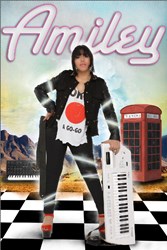 Amiley is a Pop Tropical Artist her first hit is "Tu Suegra"
(PRWEB) September 21, 2013
Amiley is new Latin-Pop singer with a long history of success. She started in the music business at a very young age joining her brothers in the band 3D2. With several songs rotating on the most important radio stations on the Tri State area, Amiley and her brothers became a very respected name in the Latin Music scene of the big apple.
Now she embarks in a more ambitious solo project presenting a unique new brand of tropical pop. "Tu Suegra" is the first promotional single that Amiley is releasing and is a very cheerful song about mother in laws that's paired with a contagious mix of cumbia and other Latin American rhythms.
The next months Amiley will be immerse in a very tight promotional tour that will take her all over the US and other countries of Latin America