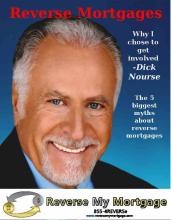 New chat apps make attaining a reverse mortgage easier than ever.
Salt Lake City, Utah (PRWEB) September 20, 2013
For seniors looking for a reverse mortgage in Utah, there is no more trusted lending source than RMM. The firm has been a leader of financing options and lending services for years, and they have now expanded their clientele by including Colorado reverse mortgage options. RMM has long separated themselves from other lending firms due to their extensive knowledge and experience, and their desire to educate seniors on the risk and benefits of adopting Utah HECM loans. They have fully optimized the RMM website to feature new tools and apps to help seniors seeking financing to eliminate guesswork and more easily narrow down the options.
The company has packed their website with tools and apps that allow users to calculate rates and see the pros and cons of each lending choice. RMM's extensive apps include Rate Calculators, a Free Guide Download, a "Calculate Your Cash" tool, Video Learning Guides, and the new "No Obligation Consultation", which offers professional financing advice on a reverse mortgage in Utah at no cost. The benefit of featuring these apps online is that even seniors interested in a Colorado reverse mortgage can access the same information—no matter where they are.
Seniors looking to speak with an RMM representative can either talk to them directly over the phone, or choose the "instant chat" option, which allows users to discuss Utah HECM loans right from the RMM homepage. Both chat options are easily available and accessible. With so many options available online, any individual seeking financing is guaranteed to find the right payment plan to suit their lifestyle. The licensed and knowledgeable agents at RMM are rigorously trained on the lending market, and RMM's website is updated with to-the-minute rates. Attaining the perfect reverse mortgage in Utah, or even a Colorado reverse mortgage, is easy with help from the experienced agents of RMM.
The "No Obligation Consultation" is just one of the many ways that RMM is working hard to adapt to the needs of senior citizens seeking the benefits of financing. The tool is one of the several additions to the website that takes the guesswork out of lending, helping seniors find the best payment option. The ultimate mission of RMM is to help seniors spend less time figuring out payment plans and more time actually enjoying their retirement years. For information, or to set up a free consultation, visit RMM online at http://www.reversemymortgage.com.