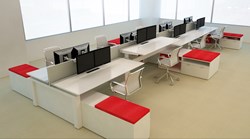 "While adopting a new workplace strategy, it's not easy for every client to achieve their complete wish list for furniture. I believe [this pharmaceutical company] found in Innovant and FORm_office a solution to meet all their objectives."
New York, NY (PRWEB) September 23, 2013
Innovant, a leader in collaborative work environments, announces two major commercial contracts for height adjustability.
A large financial services client selected Innovant's FORm_office Adjustable Height bench as the workstation standard for its 2,300 person Newport Beach-based headquarters. The product was also chosen by a global pharmaceutical company as its new national workstation standard.
Both companies selected Innovant's FORm_office Adjustable Height bench over solutions from the top five major furniture manufacturers. According to Innovant, 50 percent of all incoming requests for proposals for new workplace standards incorporate height adjustability into workstation specifications.
"While adopting a new workplace strategy, it's not easy for every client to achieve their complete wish list when it comes to furniture. I believe [this pharmaceutical company] found in Innovant and the FORm_office product a solution to meet all their objectives." – Charles Braham, President at Innovant
Both clients evaluated the products in a formal review process before making their selections. With these latest victories, Innovant has truly taken a leadership position in the height adjustable open plan benching marketplace since launching the groundbreaking product in 2012.
"What sets this product apart is the level of consideration given to all of the consequences created by an adjustable height, open plan workstation." – Bruce Wells, Director of Marketing & Development at Innovant
This FORm_office product line won Best in Show at NeoCon 2012. It addresses the significant health concern associated with employees sitting at a desk for hours a day.
For more information about Innovant or FORm_office Adjustable Height, please visit http://www.innovant.com.
About Innovant: Innovant is a renowned industry leader creating intelligent, adaptable furniture for the modern workplace. With a flagship showroom located in New York, Innovant maintains a worldwide network of offices and showrooms spanning North America, Europe and Asia. Innovant's substantial contributions to office and trading floor environments not only stem from its superior products, but also from the close collaboration Innovant supplies to clients, their architects and designers.