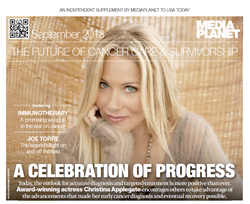 New York, NY (PRWEB) September 20, 2013
With constant developments being made in the field of medical and technologic research, the diagnosis and treatment of cancer continues to constantly improve. Mediaplanet's 2013 edition of 'The Future of Cancer Care & Survivorship' hit newsstands this morning, September 20th, within the weekend edition of USA TODAY. The 16-page special will remain on stands through Saturday and Sunday. 'The Future of Cancer Care & Survivorship' will be distributed in highly targeted markets within USA TODAY, with approximately 450,000 copies distributed and an estimated readership of 1.3 million. To explore the digital version of the campaign, click here.
This glossy, full-color special section, featuring Christina Applegate, award-winning actress and breast cancer survivor, is both a source of inspiration for those continuing their battle with cancer, and an educational guide for readers to learn more about what is currently taking place in the fight towards finding a cure. It serves to educate readers about the topic through the acknowledgment of tremendous advancements occurring within the industry that are making beating cancer a much more feasible reality, while also inspiring readers to take a more proactive approach when it comes to their own health through amazing stories of survivorship, research, technology and innovation.
With the support of The American Society of Clinical Oncology, The Prostate Cancer Foundation, The United Breast Cancer Foundation, Be The Match, Amgen, Abbott, Bristol-Myers Squibb, Children's Miracle Network, The United Breast Cancer Foundation, Patient Advocate Foundation, The HeathWell Foundation, Atossa Genetics, American Cancer Society Cancer Action Network, Seattle Children's, IsoRay Medical, Penn Medicine, Stand Up 2 Cancer and more, Mediaplanet united key thought leaders, organizations and companies, resulting in a concise showcase of the advancements within oncology while also encouraging readers to continue to stand united for a cure. For full campaign, please see "The Future of Cancer Care & Survivorship."
About Mediaplanet
Mediaplanet is the leading independent publisher of content-marketing campaigns covering a variety of topics and industries. We turn consumer interest into action by providing readers with motivational editorial, pairing it with relevant advertisers, and distributing it within top newspapers and online platforms around the world.