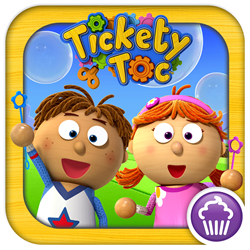 Tickety Town is a wonderful place where anything can happen! So, it's with incredible excitement that we are able to deliver the world of Tommy and Tallulah to fans. - Cupcake Digital EVP, Brand and Business Development Amory Millard
New York, NY (PRWEB) September 26, 2013
Cupcake Digital, Inc. and Zodiak Kids have announced the release of Tickety Toc Bubble Time, the very first interactive app starring the dynamic twins Tommy & Tallulah from the hit preschool show Tickety Toc on Nick Jr. in the US and Disney Junior in Canada. In this adorable tale, Tommy & Tallulah discover a big pot of bubble mixture and blow a giant bubble that grows so large it picks up their Tickety Town friends, and eventually the twins too! Will Hopparoo, Tickety Toc's fun-loving bunny who loves to pop bubbles, come to the rescue in time for Chime Time? Find out today when this story app becomes available in the US and Canada on iTunes, Amazon, Google Play, and the Barnes & Noble NOOK Store™ for $2.99.
"Tickety Town is a wonderful place where anything can happen! So, it's with incredible excitement that we are able to deliver the world of Tommy and Tallulah to fans," said Cupcake Digital EVP, Brand and Business Development Amory Millard. "Tickety Toc and its memorable characters will now be available in a new digital format, giving kids more ways to play and interact with their favorites anytime, anywhere."
Tick Tocktastic features:
● It's Play Time: Four activities starring Tickety Toc's residents help kids learn and have fun as they pop bubbles to complete words in Bubble Words, tell time in Chime Time, build train tracks with Pufferty in Train Time, or test their memory in Memory Match
● Creative Play Opportunities: Children can color scenes from the story including their favorite Tickety Toc characters while using multiple effects and stickers
● Early-Learning Reading Skills are reinforced with text highlighting and synced narration
● Three Reading Modes: Read & Play, Read to Me, and Just a Book for quiet reading time
● The Grown-Up's Corner offers thoughtful questions designed to spark open-ended conversation and reinforce reading comprehension
● A Common Core Corner details educational experiences infused within the app. CupcakeDigital.com also offers free downloadable educational activities to continue the learning off screen. The Education Corner on the website also includes Parents' and Teachers' Guides designed to provide helpful tips for learning in and out of the classroom.
"Cupcake Digital has been a dynamic partner delivering our first app experience and bringing to life the energetic adventures of Tommy and Tallulah," said Janice Lam, VP of Licensing, The Americas, Zodiak Kids. "We are extremely happy that kids will now be able to enjoy the world of Tickety Toc in a new and exciting way."
###
About Tickety Toc
Seen daily on Nick Jr. in the US and on Disney Jr. in Canada, Tickety Toc follows the everyday adventures of 6-year-old twins, Tommy and Tallulah, as they work to "chime the time" and keep everything running smoothly in Tickety Town. Traveling through the special Tickety Toc clock, where Tommy and Tallulah live, audiences enter a fantastical world of eclectic characters and tag along on exciting escapades filled with slapstick surprises. Tommy and Tallulah's strong "can do" spirit often produces an unanticipated outcome, but their individual approach to sticky situations and joint resourcefulness always shine through and save the day! Through the twins' madcap adventures, Tickety Toc explores teamwork, social responsibility and problem solving – important concepts for preschoolers as they learn and grow.
In addition to the app, other exciting Tickety Toc toys, books and DVDs are launched in September 2013.
Fans of Tickety Toc can engage with the characters, play games and learn about programming and new products by visiting TicketyToc.com, following @TicketyToc on Twitter and liking Facebook.com/TicketyToc.
About Cupcake Digital
Cupcake Digital, Inc. was established in June 2012 and has been successfully transforming children's entertainment properties into enhanced story experiences and learn & play apps, giving kids an opportunity to interact with the characters they love. The Company has created noteworthy, award-winning digital applications based on the Emmy®-winning television series "Wow! Wow! Wubbzy!®" The Jim Henson Company's "Fraggle Rock," American Greetings' Strawberry Shortcake as well as Discovery's Animal Planet brand. The company's apps are consistently top-ranked among children's book and education apps on the Apple App Store, Amazon, Google Play and the Barnes & Noble NOOK Store. Headquartered in NYC, Cupcake Digital was founded by proven professionals in the fields of technology, family entertainment, publishing and brand marketing. In October 2012, Cupcake Digital received its first round of private funding and has since gone on to partner with leading children's entertainment properties worldwide and has received five Parents' Choice Awards and two Cynopsis Kids !magination Awards. For more information about Cupcake Digital Inc., please visit http://www.cupcakedigital.com.
About Zodiak Kids/Rights Consumer Products
Zodiak Kids Consumer Products is a dedicated division that specializes in all aspects of licensing with highly experienced teams based in London and Paris. Key properties for the London team, headed up by Jennifer Lawlor include: pre-school hit Waybuloo; new animated series Tickety Toc; Little Princess, on-line phenomenon Simon's Cat; the ultimate interactive arts and crafts show Mister Maker and Mr Bean. Key properties for the Paris team, headed up by Patricia De Wilde, include the recent boys hit Redakai based on the award-winning TCG, brand new Ddee, Gormiti, The Saddle Club, Where's Wally, and iconic brand Totally Spies!
Zodiak Kids is the global independent leader in kids' entertainment, combining Zodiak Media's dedicated kids' Production Companies, Consumer Products and Sales Division. Zodiak Kids represents a yearly output of over 350 episodes of new programming produced by prominent producers: The Foundation (UK); Marathon Media (France); Tele Images Productions (France); and Zodiak Active Kids Entertainment Division (Italy). Sales for Zodiak kids are handled by a dedicated team within Zodiak Rights, one of the leading international distributors in the industry.
Zodiak Kids boasts one of the largest, high-quality kids catalogues in the world, which includes Totally Spies!, the international hit animation series; Waybuloo, the CBeebies pre-school hit; Redakai, a brand new series on Cartoon Network US; Mister Maker, the ultimate arts and craft show; Gormiti, based on the extraordinarily successful figurine range that sold over 100 million pieces ; Street Football, one of the top rated animated shows in France and Italy and the newly launched Tickety Toc.
NOTE TO MEDIA: Screen grabs, video clips, and promotion codes available upon request.