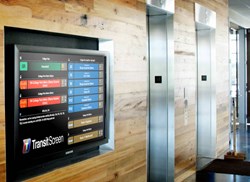 At a glance, a new or experienced user can see the nearest upcoming travel options. TransitScreen was developed to promote better transit choices, and increase public awareness of options. - Matt Caywood, President of TransitScreen
Washington, DC (PRWEB) September 25, 2013
TransitScreen officially announces the expansion of service to seven new regions in North America. In addition to the Greater Washington DC Area and the San Francisco Bay Area, TransitScreen will now be available in New York City, Los Angeles, Chicago, Toronto, Boston, Vancouver and Portland. The TransitScreen service is a live, real-time display of all transportation options at a specific location (including subway, bus, train, bike share, and car share).
"TransitScreen displays are multimodal transportation information displays that can be installed at any location. At a glance, a new or experienced user can see the nearest upcoming travel options. TransitScreen was developed to promote better transit choices, and increase public awareness of options. One of our major goals is to decrease the dependency on single-occupancy vehicles by providing the public with alternatives," stated Matt Caywood, President of TransitScreen.
TransitScreen is actively engaged with transit agencies in each of the seven new regions, and support each agency by promoting their service, attracting and informing potential passengers, and integrating with other transit modes and with neighboring agencies, helping passengers make a seamless, end to end, trip. These seven new regions were chosen because there has been a demand for TransitScreen, both with partnering agencies and clients. Each new region provides multimodal transportation options, and the city's transit agencies support open data policies.
In the Los Angeles Area, TransitScreen will show transit information for LA Metro Bus and LA Metro Subway. As in every other city, any other transit systems with open data can be added to the display, enabling expansion to any neighboring jurisdictions. In the New York Metropolitan Area, MTA Bus, MTA Subway and Citi Bike are displayed; In Chicago, the CTA Bus, CTA Rapid Transit ('L') and Divvy bike share; In Toronto, TransitScreen the TTC (bus, streetcar, subway, LRT and commuter train) and BIXI bike share; In Vancouver, the TransLink bus service; In Boston, the MBTA ('T') subway, bus and rail; and in Portland, the TriNet bus, light rail and commuter rail.
"Following the successful launch in the San Francisco Bay Area, it was time for TransitScreen to expand to more markets in North America. Each of the seven new regions were selected because of their support of public transit, sustainability and community improvement. We are also excited to announce that we have hired four Regional Managers, and are currently looking to hire more to cover sales and partner relations in each of the nine regions where TransitScreen is currently available," commented Ryan Croft, Vice President, Business Development of TransitScreen.
The primary markets served by TransitScreen are governments (federal, state, local governments, municipalities, and business improvement districts [BIDs]), Institutions (colleges, universities, hospitals and health centers) & Employers (hotels, stadiums, arenas), Property Manager & Builders (commercial real estate developers, residential buildings, property managers), Shops, Bars & Restaurants and Transit Agencies.
About TransitScreen
TransitScreen is a privately held transportation software and digital signage company and a pioneer in providing real-time transit information displays. The TransitScreen service is a live, real-time display of all transportation options at a specific location (including subway, bus, train, bike share, and car share). Founded in 2012, TransitScreen makes transit information more accessible, viewable and engaging so that commuters, visitors, residents and employees can make informed transit decisions. TransitScreen is a Transportation Demand Management (TDM) solution to create sustainable, walkable, bike-able cities of the future and inform citizens, promote behavior change, and reduce parking and traffic on city streets. Today, thousands of people live and work in institutions, organizations, companies and shops displaying our multimodal transit information. Visit http://www.transitscreen.com, or follow TransitScreen on Twitter (@transitscreen) and facebook.com/transitscreen.