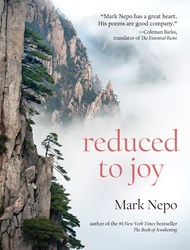 When [Mark Nepo] writes, he writes purely from the heart. —Oprah Winfrey
(PRWEB) September 20, 2013
Oprah Winfrey's new season of Super Soul Sunday premiers September 22nd, with two episodes featuring best-selling author and poet Mark Nepo, author of Reduced to Joy. The first episode, airing October 13, will explore how Nepo's cancer diagnosis led him on a spiritual journey that inspired his later work. The next episode focuses on how listening with a full heart can strengthen and deepen relationships. Nepo will draw on his forty years of spiritual and poetic teaching in these intimate conversations with Oprah Winfrey on living a meaningful life.
"When [Mark Nepo] writes, he writes purely from the heart."
—Oprah Winfrey
October 13 "The Big C: Healing Body and Soul"
October 20 "Oprah and Mark Nepo: Listening to the Soul"
Mark Nepo, the New York Times bestselling author of The Book of Awakening, has been called "one of the finest spiritual guides of our time," "a consummate storyteller" and "an eloquent spiritual teacher." Now in his sixties, he has written Reduced to Joy, a book of seventy-three poems about the nature of working with what we're given till it wears us through to joy. Nepo says, "Poetry is the well from which all my books rise. It's where I always go to listen, always stunned by what arrives. I bring these poems back from the deep like shells from the sea that we can look at together." Profound and accessible, Nepo's poems are tools for staying close to what matters.
Meet Mark Nepo in person at these upcoming events:
9/20-9/22 The Exquisite Risk, Kansas City, MO
9/26-9/28 National Hospice and Palliative Care Conference, Kansas City, MO
10/5 Heartland Fall Forum, Chicago Heights, IL
10/24-10/25 Sr. Mary Rose PcPhee Lecture and Workshop on Leadership and Spirituality, Austin, TX
12/4 Books, inc. Opera Plaza, San Francisco, CA
12/5 Book Passage Marin, Corte Madera, CA