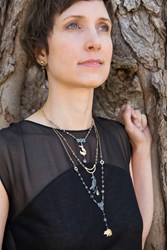 Unique vintage inspired handmade jewelry with distinctive details and elegant flair.
Boston, MA (PRWEB) September 20, 2013
Jenne Rayburn, a Boston based jewelry and textile designer, presents her handcrafted jewelry collections at the SoWa Open Market on September 22nd, 2013. Featuring outdoor shopping in one of Boston's hippest neighborhoods, the SoWa Open Market features top-notch handmade designs from local artisans, making everything from couture fashion and leather accessories to jewelry, glass, and custom framed art. The SoWa Open Market is held Sundays from May through October, 10 a.m.–4 p.m., at 460 Harrison Avenue.
Rayburn combines a treasury of antique and vintage jewelry components and findings, and her love of stylish adornment, to craft a unique selection of wearable art using her carefully curated collection. At SoWa Rayburn will feature new pieces from her Vintage Collection of necklaces, earrings and bracelet. "I've been scouring vintage markets and antique shops for vintage jewelry and components for years, and am really pleased with how they have come together with my own contemporary jewelry designs in this new collection," says Rayburn.
Hand-selecting unique materials with distinctive details or that have an elegant flair, these beguiling finds are then playfully combined with sometimes unexpected colors and textures to create unique, timeless designs often with surprise and whimsy. One might find a vintage brass chain with a bold Lucite button, or colorful ethnic beads with an antique bronze buckle. Each design is meticulously handcrafted with care in the designer's Malden, MA studio. With attention to detail, richness and depth, the jewelry collection offers elegant necklaces, earrings and bracelets with sophisticated color, pattern and texture.
Always on the hunt for rare or out of production vintage findings, and unique ethnic specialty materials, the collection includes brass, sterling silver, vintage glass beads, Lucite and crystal. "Since I was a child, I have been designing," said Rayburn "Jewelry, clothing, textiles and spaces – design is my lens onto the world." Her approach is experimental, and while she references and admires formal and classical techniques, Rayburn does not feel constrained by them. Fascinated by the play between repetition and pattern, texture and color, yet considering function as much as form when designing, each piece of jewelry is a unique work of art.
Showcasing an ever-changing group of local and regional artisans not usually represented at local craft fairs and festivals, at SoWa you will meet the artists, designers, chefs and farmers behind the work. Venders pitch their tents in the parking lot between Harrison Avenue and Albany Street. Several food trucks also serve the market, and a separate farmers' market sells seasonal produce. The SoWa Vintage market is next door where an ever-changing selection of antiques and collectibles are available. Each week offers shoppers something different and unique including original art of all mediums, gourmet food trucks, indie designer clothing and accessories, ceramics, glass, photography, jewelry, handbags, house wares, baked goods, local farmer's produce – you won't want to miss it!
SoWa Vintage and Open Markets are at 460 Harrison Ave., Boston, 800-403-8305
Sundays, 10 a.m.–4 p.m. sowaopenmarket.com sowavintagemarket.com
Visit Jenne Rayburn's collections. http://www.jennerayburn.com
Visit Jenne Rayburn on Facebook. http://www.facebook.com/Jenne.Rayburn
About: Jenne Rayburn is a Boston-based jewelry/textile artist who also studied interior design and architecture, and her work explores the convergence of architecture, design, technique and identity. Balancing the demands of a career and a growing family, Jenne is a mother, wife and daughter who designs for herself and all the women in her life who want to feel uniquely beautiful and powerful. It is her hope that the wearers of her pieces will find joy in a delightful artistic statement, and also something that enhances their individuality and confidence. Her work is suitable for wedding jewelry and is carried in local galleries and online. Please visit http://www.jennerayburn.com for Jenne Rayburn's online flagship store. For wholesale information, please visit jennerayburn.com/wholesale.com.