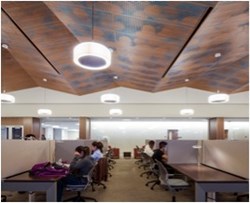 Houston, TX (PRWEB) September 24, 2013
The spatial experience of the contemporary building should not exclude the ceiling plane. Often overlooked as a surface that can become the focal point of a space, ceilings are usually thought to be more functional and an element that should disappear rather than stand out. Now Wade Architectural Systems (WAS) offers systems from Ceilings Plus that boast acoustical performance and a wide variety of surface options that allow the designer to envision the ceiling plane as a blank canvas awaiting their mark of distinction.
Wade Architectural Systems is proud to offer Ceilings Plus to designers and contractors in Texas and Oklahoma. Established in 1987, Ceilings Plus is an innovator in ceiling and wall forms and is headquartered in Los Angles, California. Ceilings Plus has been involved in projects all over the world.
Today, commercial ceiling systems are often constructed from steel or aluminum coil. These can be coated in a variety of finishes or can be faced with a thin wood veneer to give the appearance of solid wood. Ceilings Plus forms their ceiling and wall panels from aluminum rather than steel, as aluminum is lighter yet stronger than steel, allowing for large panels that won't dip and pan. As compared to MDF or wood core ceilings, aluminum weighs less and will not absorb moisture and warp over time like wood can. Using a 1/28th thick veneer in a variety of wood species on an aluminum substrate, Ceilings Plus can offer cost effective and better performing alternatives to MDF and wood ceilings. Plus, wood veneer systems from Ceilings Plus have no added formaldehyde, which prevents dangerous off-gassing so indoor air quality is preserved.
The Illusions system from Ceilings Plus is a fully accessible modular ceiling system which can be configured into an infinite number of shapes and patterns. Panels can be created in triangulated shapes and tessellated patterns, often at no additional cost over a traditional, rectilinear pattern. Panels can formed into three-dimensional, pyramidal, as well as curved forms to even further express the possibilities of ceiling space.
The panels install on a steel grid with torsion springs, allowing a hinging action of the panels for full access to the space above the ceiling plane during and after installation. Facilities managers find it easy to access plenum space as well as replace panels that may become damaged or abused during occupancy.
Another popular system offered by Ceilings Plus is the Barz system, a linear panelized cassette available in varying profile shapes and sizes. The system can be used on both ceiling and wall planes and can enhance the acoustical performance of the space while adding depth and visual interest. Barz are made of aluminum and can be micro-perorated to increase the noise reduction coefficient (NRC). Additional acoustical infill material can be added to even further improve performance.
In addition to real-wood Arboreal veneers, Ceilings Plus offers FSC certified wood options as well as a PVC-free dimensionally stable laminate Sarante which boasts superior durability and no maintenance in a large selection of wood-grains. A recent addition, Blanco Mat brings a new purity to the traditional white finishes offered by manufacturers. Blanco Mat has a high light reflectance value (LRV) of 90% to improve lighting efficiency while its soft matte surface minimizes glare.
There are many specialty ceiling and wall systems options from Ceilings Plus from which to choose, and Wade Architectural will work with customers to help them select the perfect system for their needs.
About
Located in Humble, Texas, Wade Architectural Systems has served the Texas construction market for more than 25 years. They specialize in exterior and metals and building envelopes, interior ceiling systems, and also offer solutions for controlling air movement, moisture, and noise levels. Project design and construction teams can contact WAS at 888-952-5069.