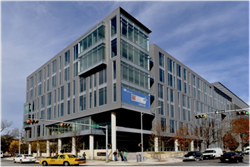 Houston, TX (PRWEB) September 24, 2013
Wade Architectural Systems (WAS) has served the architectural market as a supplier of exterior metals from manufacturers including VMZINC, Dri-Design, and Centria. WAS is based in the Houston area with additional representation covering the state of Texas. In September 2013, WAS announced expanded coverage for VMZINC to include Oklahoma.
Wade Architectural Systems has been the Texas source for VMZINC materials for over 12 years. VMZINC is manufactured by Umicore Building Products, the world's leading producer of architectural zinc as a building and construction material. Umicore has offices and representatives all over the world. In the United States, Umicore Building Products USA, Inc is based in Raleigh, NC.
Zinc has a rich history as a building material and is known as the roofing material of choice in Paris, France. The result of Baron Hausmann's rebuilding effort in the mid-1800s, 85% of all metal roofs in Paris are constructed of zinc. Zinc is known for its lifespan of 80+ years in exterior applications and its beautiful gray patina. The patina, which is a protective layer, forms as the result of material oxidation with exposure to rainwater and carbon dioxide.
In addition to their long life-cycle, zinc panels from Wade Architectural Systems have many other sustainable benefits. Zinc has a very high recycled content and is fully recyclable and the end of its useful life. Since the material forms a patina, it requires no extra coating to protect the material against the elements, and even zinc with color coatings for aesthetics are very low in volatile organic compounds (VOC). Zinc has a very low production energy use as compared to aluminum and copper. Visit the International Zinc Association to learn more about the ways zinc can contribute to sustainable design: http://www.zinc.org/
In addition to traditional standing seam roofing, rainscreen wall applications using zinc as a cladding material are rapidly growing in popularity. Some of the wall systems profiles available through Wade Architectural Systems include VMZINC Interlocking, Flatlock, Corrugated Sinus, and more. VMZINC materials are also available in the Dri-Design Metal Wall System, which is an easy to install, dry-joint rainscreen panel system, which is fully tested to current AAMA standards and even Miami Dade. Each panel system can offer a distinguished look at a range of price-points.
Wade Architectural systems asks architectural designers and specifiers to bring us into the project early in the design process so that we may assist with detailing and specification questions as well as provide budgetary pricing options to ensure the systems remain within budget. We also offer continuing education programs to specifiers that are registered with AIA/CES, so that they have a broader understanding of the material behavior and common conditions in roofing and wall systems.
Installers of VMZINC material are required to complete a training program hosted by Umicore Building Products, in which installers will gain hands-on experience in project-specific applications. They will learn how to properly complete the range of conditions they will encounter on their upcoming project using zinc roofing and wall systems.
In addition to providing assistance during design, budgetary pricing and installer training, Wade Architectural Systems also offers complete system packages to contractors including material, shop drawings and engineered calculations.
About
The team at Wade Architectural Systems can offer complete solutions and expertise in exterior metals to design and construction teams throughout Texas and Oklahoma. In addition, every effort is made to help clients achieve the design results they want while staying within budget. Individuals who are interested in learning more about the design options available through Wade Architectural Systems can contact the company directly by phone at 866-993-7648.