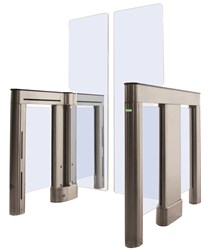 Earning an ETL Mark validates our continued commitment to providing safe and reliable products to our customers
Chino, CA (PRWEB) September 23, 2013
Alvarado, a leading U.S. manufacturer of optical, full height and waist high turnstiles, announced today that it has successfully gained ETL certification for its Supervisor 5000 motorized barrier optical turnstile. The SU5000 has been tested and found to comply with the requirements of UL Standard 325 and CSA C22.2 #247. This is the first time that a barrier panel optical turnstile has been granted an ETL certification for UL Standard 325. The ETL Mark from Intertek is proof that a product has been tested by an independent laboratory and meets the requirements of the applicable product safety standards for the US and Canada.
"Since 1956, Alvarado has been focused on delivering quality products. Earning an ETL Mark validates our continued commitment to providing safe and reliable products to our customers," said Bret Armatas, CEO and President of Alvarado.
The SU5000 provides employee access control in corporate lobbies. Its thin profile and beautiful design is suitable for Class A buildings. The SU5000's sophisticated detection technology detects unauthorized access attempts, prevents "tailgating" behind authorized users and provides highly effective entry control. The SU5000 has a number of aesthetic options. Etched corporate logos can be added to the barrier panels and panel logos can be illuminated with low-voltage LEDs in a variety of colors. Finishes to match existing decors can be provided.
Like all Alvarado optical turnstile products, the SU5000 easily integrates with any access control system.
About Alvarado
Founded in 1956, Alvarado provides products that protect assets and control the flow of people in facilities throughout the world. A state of the art facility in Southern California houses design, manufacturing and distribution. Knowledgeable employees offer superior service and support from specification through years after installation. For more information, visit http://www.alvaradomfg.com.
About Intertek
Intertek is the leading quality solutions provider to industries worldwide. From auditing and inspection, to testing, training, advisory, quality assurance and certification, Intertek adds value to customers' products, processes and assets. With a network of more than 1,000 laboratories and offices and over 36,000 people in more than 100 countries, Intertek supports companies' success in a global marketplace. Intertek helps its customers to meet end users' expectations for safety, sustainability, performance, integrity and desirability in virtually any market worldwide. Visit http://www.intertek.com.