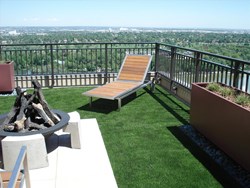 Government investment in green roofs for their storm water, air quality, green space and city cooling benefits largely fuels the growth of our industry, said Steven W. Peck
Vista, CA (PRWEB) September 20, 2013
EasyTurf is scheduled to debut at the World Energy Engineering Congress (WEEC), in Washington, D.C. Sept. 25, showcasing their green-roof-surfacing-system for architects, city planners and engineers.
The green roof industry continues to grow aggressively, and since 2009 is up about 115%. This growth can be partially attributed to companies and organizations like Green Roofs for Healthy Cities (GRHC), Cities Alive, EasyTurf and the more than 425 accredited Green Roof Professionals (GRPs) in the market.
"EasyTurf gives companies the ability to enhance their appeal by providing an ultra-realistic, innovative, low-weight and cost-saving landscape," said David Hartman, EasyTurf President. "EasyTurf's trusted position as the industry leader in synthetic grass landscape systems and dedication to an exceptional customer experience continue to attract commercial businesses, military, landscape planners, designers and architects searching for aesthetic improvements."
The government is also taking a noticeable interest in this particular area.
"Government investment in green roofs for their storm water, air quality, green space and city cooling benefits largely fuels the growth of our industry," said Steven W. Peck, founder and president of Green Roofs for Healthy Cities (GRHC). http://www.greenroofs.org/resources/2011GreenRoofSurveyResults.pdf
According to http://www.energycongress.com, WEEC is now in its 36th year and well-recognized as the most important energy event of national and international scope for end users and energy professionals in all areas of the energy field. It is the one truly comprehensive forum where participants can fully assess the "big picture" and see exactly how the economic and market forces, new technologies, regulatory developments and industry trends all merge to shape critical decisions on an organization's energy and economic future.
EasyTurf's artificial grass system meets requirements of a green roof project which include preserving, enhancing and making viable living space from areas that were traditionally wasted, while at the same time providing a cost-saving, environmentally-friendly landscape solution. Requirements also include making urban areas more livable and vibrant through sustainable design. Some of the cities leading the green roof initiative include Washington DC, Chicago, New York and Toronto, although mass media reports every major city is taking an interest in these types of projects, creating more and more green jobs in their local communities.
The WEEC features a large, multi-track conference agenda, a full line-up of seminars on a variety of current topics, and a comprehensive exposition of the market's most promising new technologies. Among featured speakers for 2013 are former California Governor Arnold Schwarzenegger, speaking on "Will Innovation and Green Technologies Save the Global Economy," Alliance to Save Energy President Kateri Callahan, speaking on "What to Expect on Energy Policy Under President Obama's Second Term," Exxon Mobil V.P for Corporate Strategic Planning William (Bill) Colton, speaking on "The Outlook for Energy: A View to 2040," and Toyota Motor Manufacturing Alabama President Jim Bolte speaking on Toyota's Sustainability Plan.
EasyTurf, the landscape division of FieldTurf, plays an important role in environmentally friendly engineering and energy conservation plans for communities throughout North America.
About EasyTurf:
In May 2010 EasyTurf, Inc., a long-time distributor of FieldTurf's line of landscaping products and a recognized leader in the artificial grass industry, became the national brand of FieldTurf's landscape, pets, playground, and golf artificial grass products. The partnership allowed FieldTurf to rapidly expand its existing dealer network and accelerate sales and distribution of FieldTurf's landscape products on a national level to homeowners, municipalities, schools, businesses and the military.
EasyTurf is North America's preeminent source for landscaping, offering state-of-the-art synthetic lawns for realistic, beautiful, easy-care residential and commercial landscapes, providing specialty synthetic grasses engineered specifically for military surfaces, commercial and residential athletic and playground surfaces, putting greens, and for pet-friendly landscapes.
EasyTurf's product advancements in the synthetic grass industry have led to massive growth for the Vista, California-based leader in lifelike artificial lawns that stay beautiful year round.
FieldTurf has long been the world leader in synthetic sports field cover; now EasyTurf is poised to equal that success in the residential and commercial artificial grass landscaping markets.
Contact:
Jackie Luper, Director of Marketing
Phone: (760) 745-7026
Fax: (760) 888-2011