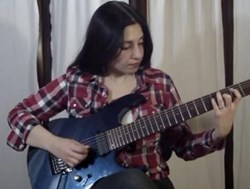 New York, NY (PRWEB) September 20, 2013
"Arpeggio" comes from an Italian word meaning "like a harp," so the notes of the chords are played individually in rapid succession rather than all at once.
Alejandra uses her Ibanez seven-string guitar to demonstrate this dreamy rhythm guitar lesson that is played almost entirely in arpeggios, except for some harmonics in the second section. Well-known for her progressive, shred guitar style, the Argentinean string wizard here plays in a slow, stately style to reproduce Dream Theater guitarist John Petrucci's original piece. The chords may seem unusual at first (e.g., G#m9, F#add11, Eadd9#11, etc.), but are actually familiar forms with an added note or two.
Alejandra first shows how to play "The Count of Tuscany" at its proper tempo, then plays it at a slower pace for easier learning. There is a link to printable rhythm guitar tabs written both in music notation and in tablature.
Begun in 1985, Dream Theater is an American progressive metal band known for its advanced technical, harmonic and rhythmic concepts. Its virtuoso lead guitarist John Petrucci has been invited on Joe Satriani's famed G3 tours six times, more than any other player. He was ranked second in John McIver's book The 100 Greatest Metal Guitarists and as one of the "Top 10 Fastest Shredders of All Time" by Guitar One magazine. The band's album Metropolis Pt. 2: Scenes from a Memory was listed as the number one all-time progressive album by Rolling Stone. The readers of Loudwire magazine voted the band's Images and Words the world's best metal album, beating albums by Dio, AC/DC, Judas Priest, Megadeth and Metallica.
Enjoy and learn more John Petrucci riffs, as well as many others, from Alejandra and all the teachers at Guitarcontrol.com in the free guitar lessons at http://www.youtube.com/guitarcontrol.
GuitarControl.com, a leader in video music education, is the brainchild of Philadelphia guitarist Claude Johnson. Since 2004, it has offered online and DVD guitar lessons taught by experts in styles ranging from rock and metal to jazz and country to classical and fingerstyle acoustic, as well as courses for singers, drums, bass and keyboard, and music software, song collections and jam tracks.