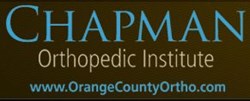 Orange County, CA (PRWEB) September 21, 2013
An arthritis and joint pain seminar will be held on Wednesday, October 9, 2013 at The Westin at South Coast Plaza in Costa Mesa, California. Chapman Orthopedic Institute of Orange, California is one of the sponsors of this event. The seminar will take place from 4:00pm to 6:00pm and those who RSVP will receive a complimentary dinner along with valet parking.
Poised to speak at the seminar are Chapman Orthopedic Institute physicians Christopher Ninh, M.D., Grant Robicheaux, M.D. and Perry Secor, M.D. They will discuss topics such as osteoarthritis, arthritis of the hip, knee and shoulder, non-surgical alternatives for joint pain relief and the latest in minimally-invasive surgical techniques.
Major League Baseball Hall-of-Fame catcher Johnny Bench will also make an appearance at the event to share his experience with joint pain and life after his hip replacement surgery.
Chapman Orthopedic Institute is a team of some of the top orthopedic specialists and surgeons in Southern California. Chapman is at the forefront of orthopedic treatment technology, and specializes in minimally-invasive treatments for joint pain and other orthopedic conditions.
Chapman also utilizes the anterior technique for hip replacements. This allows the hip to be replaced without detaching the muscle from the femur or pelvis during the procedure, which minimizes the length of the healing process. Most anterior hip replacement patients experience a rapid recovery to normal function.
Christopher Ninh, M.D. is the medical director at Chapman. He is a board-certified orthopedic surgeon with special training in sports medicine. He is a member of the American Medical Association, the American Orthopaedic Society of Sports Medicine and the American Academy of Orthopaedic Surgeons.
Grant Robicheaux, M.D. is an orthopedic surgeon trained in minimally-invasive techniques, specifically treatments involving the hands and upper extremities. He is a member of the California Medical Association. Perry Secor, M.D. is a board-certified orthopedic surgeon, a certified Qualified Medical Examiner, a clinical supervisor for the Physician Assistant Program at USC and a member of various orthopedic organizations.
If you are interested in attending this free arthritis and joint pain seminar sponsored by Chapman Orthopedic Institute, call (714) 633-0011 Ext. 1233 to register your attendance. Chapman Orthopedic Institute is proud to sponsor and speak at an event like this to better inform the public about joint pain and available treatment options.